Designer Interview: Mia Lagerman
Designer of our Sky chair range, Mia Lagerman takes a considered approach to designing furniture for the workplace. Since the launch of the original Sky Wood, the chair has now evolved into 7 different iterations, adapting the product into a thoughtfully designed, clever range of chairs.
Sandra Genth, Director at Icons caught up with Mia to chat about how she approached the design of the Sky chair range, its suitability for workplace design, and why an economics degree is the key to success in the design world.
SG: How did you approach the design of the original Sky Wood chair?
ML: Not long after I finished design school, someone told me: 'Everybody can make a chair Mia, but not everyone can make a stackable chair.' From then on, I was driven by the idea of creating a stackable chair which was not only functional, but also delivered a strong design.
When working with stackable chairs, there are a few ways you can approach the design. For Sky, vertical stacking is one of the essential principles. Sky Wood was created to make an endless stack (the idea of stacking 'to the sky').
Working with the technique of bent wood made the form of the leg possible. Not only is it strong in its construction, but it also defines the feeling of the chair.
SG: Since the launch of the Sky Wood with Icons, the collection has expanded to include 7 variations, each with unique features. How did you continue with the original design ambition?
 ML: The Sky family began with the 'mama chair', Sky Wood. Sandra and Jesper at Icons had thoughts and wishes about how the original chair could evolve to become a range, a whole family with different functions and solutions for the modern workplace and from there we added the different variations.
This was complex because we were no longer simply dealing with the original wooden shell, but also a plastic shell, upholstery and determining how the different legs and star bases would attach and behave when connected to different materials.
It was important to retain the design essence of the original Sky with each new variation of leg – whether the original wood leg, new metal leg, or sled base.
SG: Workplaces need to be able to adapt to rapid change within their environments. How do you feel the Sky range can help with this?
ML: The stackable nature of Sky is of great value to commercial interior environments. Not only the vertical stacking, but also how the chairs sit snugly side by side, and easily moved on trollies from space to space, depending on the setting and the quickly changing activities of your team.
I think a product like Sky, which is so simple in its design can be applicable in all environments no matter where you are, making it flexible for employer and employee needs. This simple design makes it easier to help others create more fluid, transformable spaces.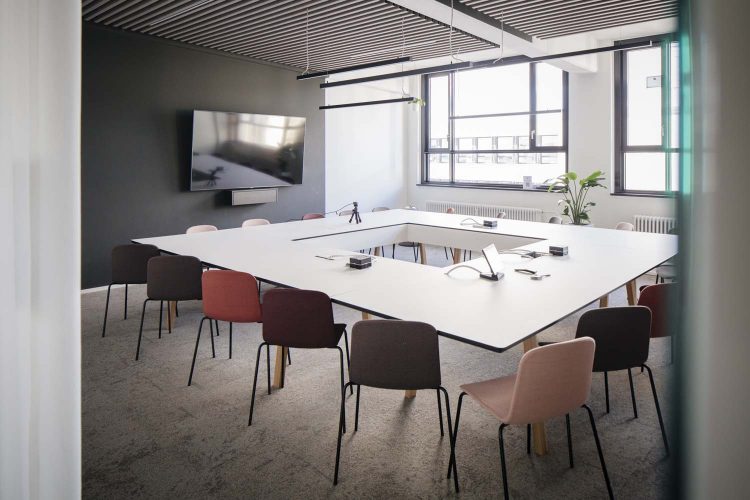 SG: You say that design becomes uninteresting "when everything resembles each other, when it becomes…predictable." How do you feel your designs disrupt the industry?
ML: Human nature is to look for something different, to be curious. The Sky family has a very relaxed design, but it is special because of the scale of the wider project. The good thing about Sky is we agreed from the beginning where we were heading as a team, and what we wanted the family of products to achieve.
This can be difficult when creating a new product, as there are numerous parameters involved in the decision making: finding the right suppliers, price, unifying ideas from different collaborators. These factors influence a product, and how it evolves.
SG: Absolutely. I also like the solution you found for the Sky trolley, I think it is a clever way of saving space, and transporting it, but also making the trolley look well designed, and in proportion with the chair.
ML: Yes! That is also part of it. If the chairs are going to stand somewhere, somebody is going to see a piece like the trolley. You can't forget that those smaller, functional details are also part of the product. It needs to work harmoniously together.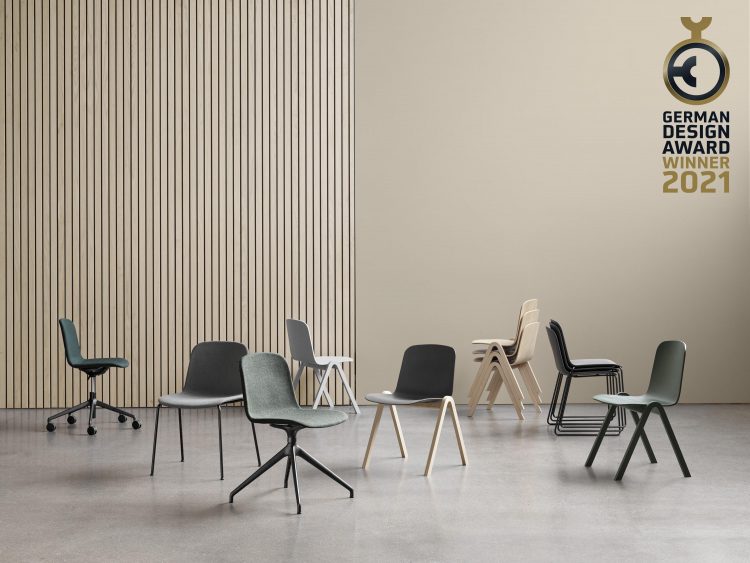 SG: Where do you find the inspiration for your designs?
ML: Inspiration is something that comes from within, something you possess. I feel it starts early in your childhood. Inspiration comes from your history, curiosity, your interests, certain phases of your life, what experiences you encountered along the way: all these things come together to create your platform of thinking.
Over time you learn to work with it, build upon it and then – it is your hard work. Researching, experimenting. Always having your eyes and ears open. Digging deeper to find the best solution for a particular project.
Inspiration is part of your DNA as a designer.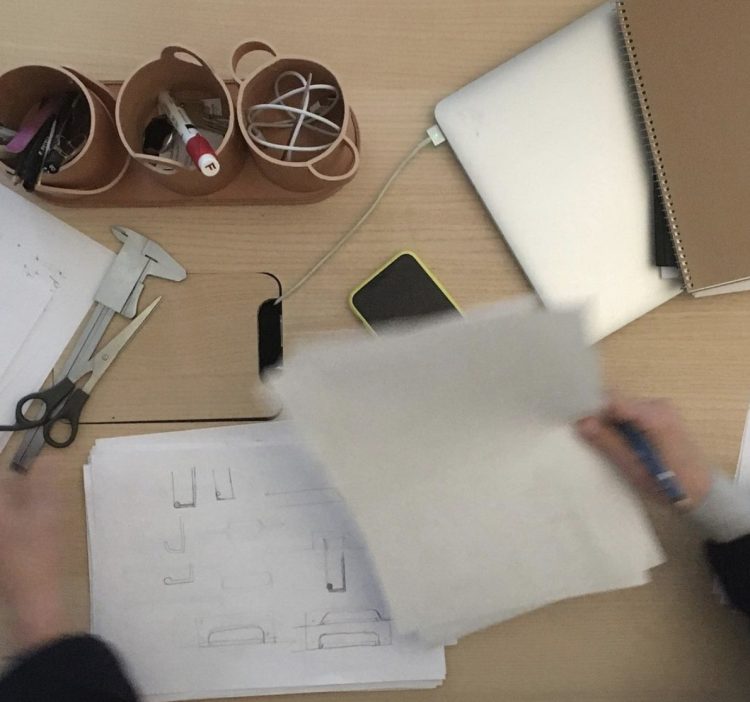 SG: What about your process, Mia? When you are developing design, do you prototype yourself? Do you make models? Do you 3D Print?
ML: It is different from project to project. I work with 3D programmes on the computer for a long part of the design process. We create physical models when we're close to the end of the project, so we can better visualise the developed design.
I experiment with different material ideas too, depending on what is driving the product or project I am developing. It could be forms of paper, stone, rattan or more hand-crafted pieces through techniques like glass blowing.
SG: How do developments in technology influence your design?
ML: Technology can be a game-changer when there are big shifts in how it influences. It is a fantastic opportunity to rethink.
For example, when 3D veneer first appeared as a technique, this made a huge difference to design generally and the freedom of form.
(3D veneer is a revolutionary process on an industrial scale that allows the molding of veneer three-dimensionally without cracking. The structure of the wood and texture remain unchanged.)
I often question my work too. How can I do things better? What will be easier or smarter? I have been brought up to challenge my design.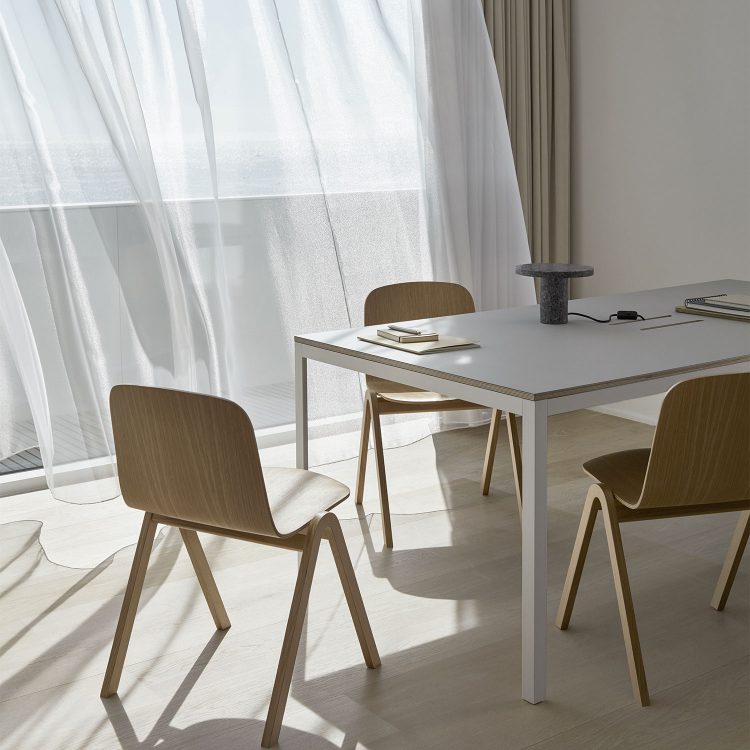 SG: What is the best advice you have received as a designer and what would you pass on to the next generation of designers?
ML: As a designer, I would recommend complementing your design focus with an economics degree – modern designers need to be multi-faceted and have many talents. Understanding how a business works, and how your products need to be commercially viable is key to success.
Be yourself! Be brave. Trust yourself to create your own design and form that is yours.
You need other people to help move you forward. If you face a challenge, you need others around you to share knowledge.