ESR Labs, Munich
ESR Labs is an embedded software company with several offices across Germany. Working with Studio Blau, a Bavarian based architecture practice, ESR Labs wanted their new Munich office to be open-plan and contemporary to encourage collaboration and creativity within their team.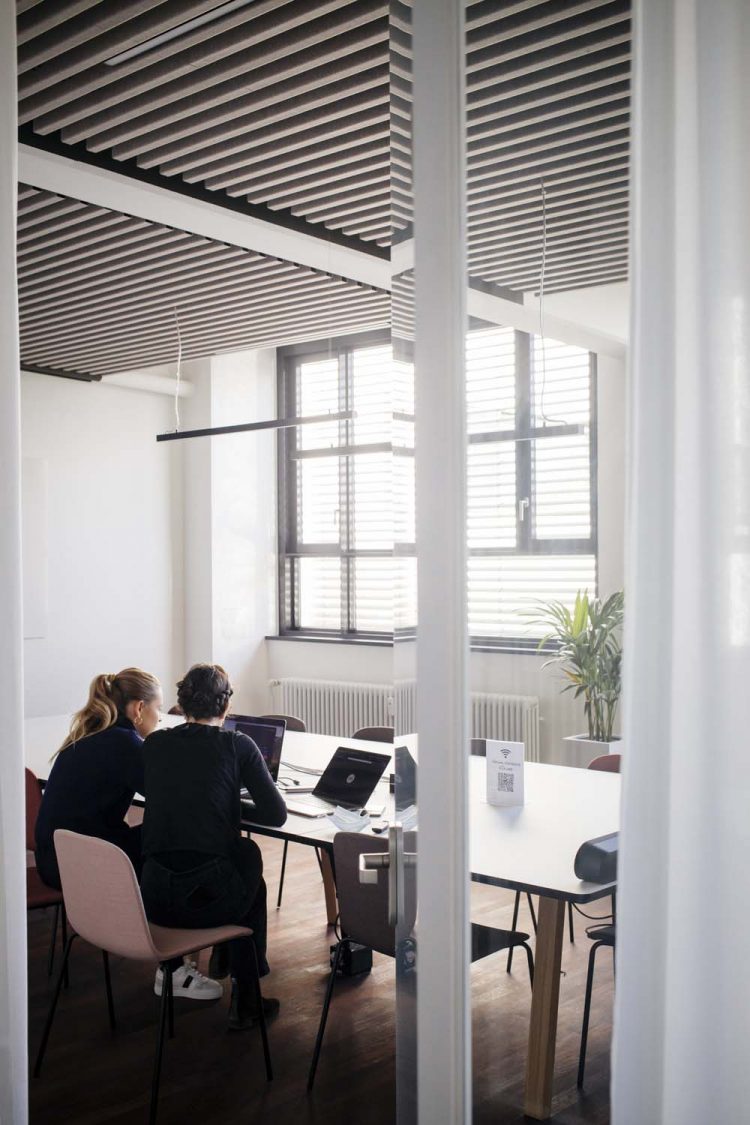 Studio Blau specified the Facit table and a number of Sky Chairs to furnish the meeting rooms that sit off the main office space.
Sitting within the larger meeting room is a customised Facit table. Icons worked closely with Heide Künnemann of Studio Blau to create a unique design of four interlinked tables forming a square, with adjusted leg placement on each to accommodate meeting chairs. The meeting room needed a degree of flexibility, so the tables were also designed to support reconfiguration if required.
Being an advanced tech firm, ESR Labs needed the tables to be power integrated so each employee could use the meeting rooms seamlessly. A unique feature of the Facit table, is that it integrates power through the legs as a standard option – rising to Studio Blau's challenge to provide the technical facilities required of ESR Labs.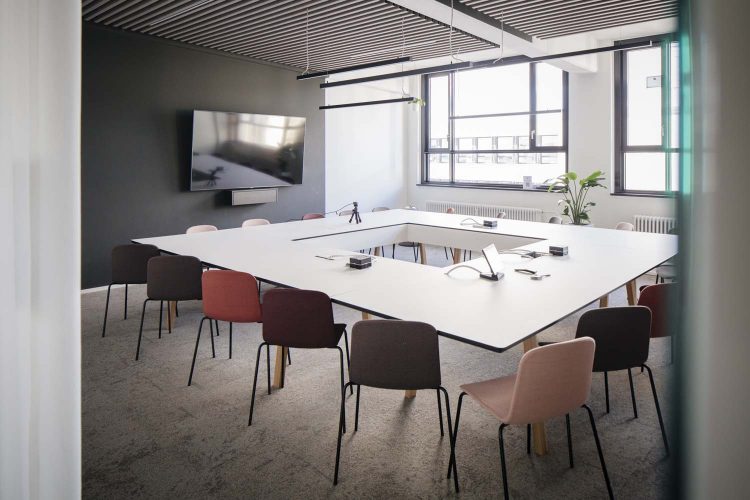 In the additional meeting spaces, custom-sized Facit Tables with matching finishes and power integration were selected, continuing accessibility throughout the office.
The tabletops were specified with smooth white Fenix surfaces, deliberately chosen to echo the surrounding decor of white translucent privacy curtains and clean white walls.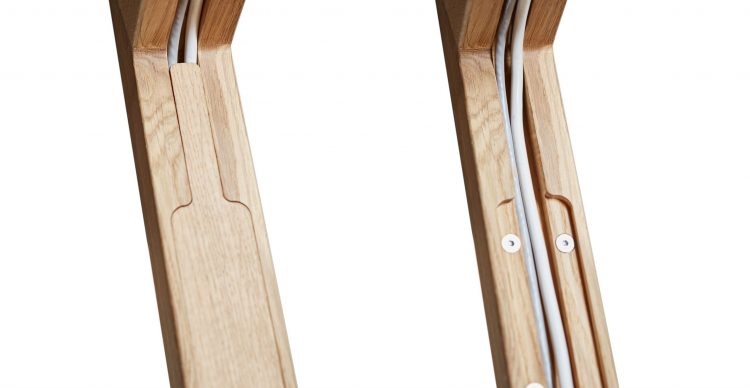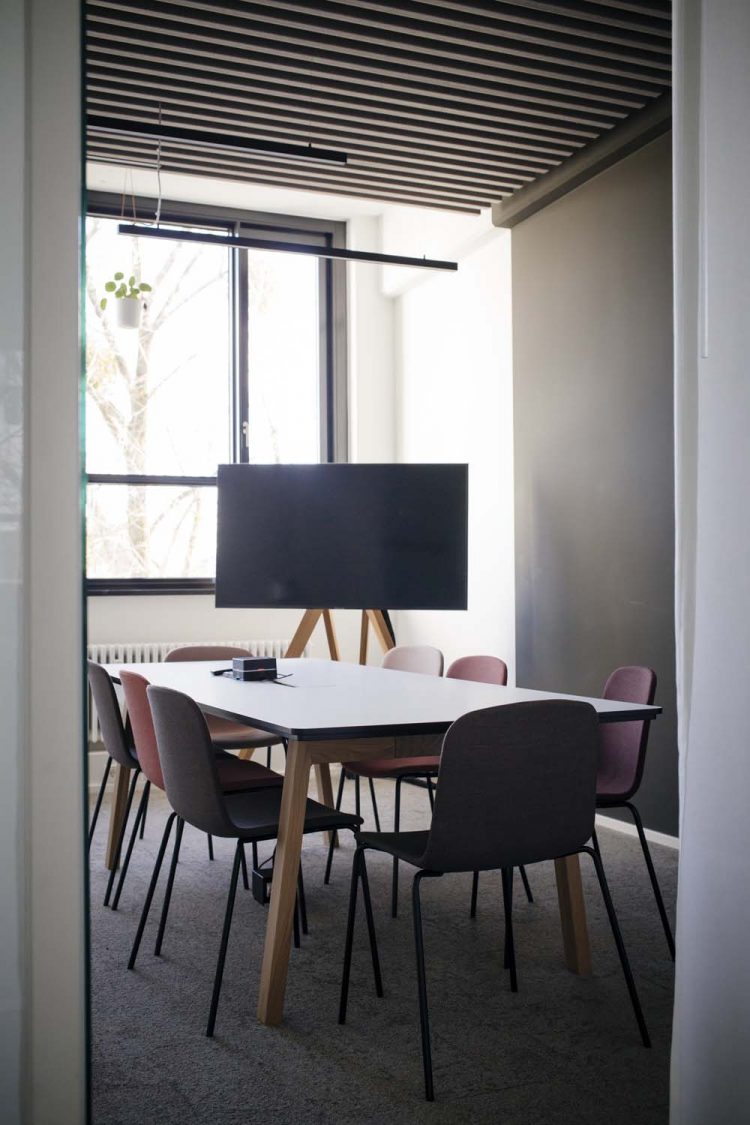 Contrasting the purity of the white, the Sky 4 Leg Chair was selected with a variety of fabrics for the upholstery. From light rose to rich burgundy, the architects wanted to create a calm, warm atmosphere for the meeting rooms.
The Sky 4 Leg is a stackable meeting chair and contributed well to providing flexible and reconfigurable meeting rooms.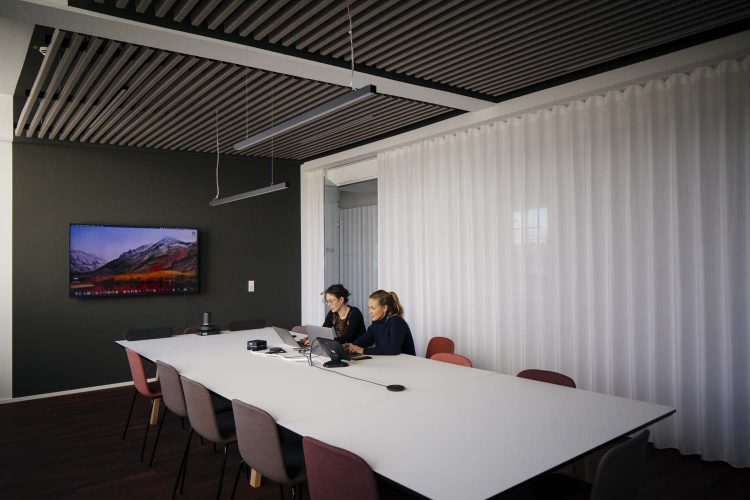 ESR Labs describe themselves as "an ambitious group of engineers, entrepreneurs, and creatives" that "create technology to take on today's challenges in mobility, connectivity, and autonomy."
With their company aim in mind, Icons was pleased to have been selected as a supplier to the project by Studio Blau. Our products strive to respond to the changing demands of workplaces, by offering furniture that promotes a connection between colleagues, innovation through manufacturing, and contemporary yet timeless design.
Photography credit: Myrzik und Jarisch
Products used in this project