The making of the Pop Flip Top
Hans Thyge believes that good design is only possible with collaboration. Working with Icons, Hans developed our new Pop Flip Top Table, a simple functional product with a strong visual identity.
"When we started working on the design of the table with Icons, we influenced each other's ideas which I think is interesting. You are inside the world of clients every day and you have a feeling for what they need which is what I deeply respect. Where this type of dialogue works well, is when we share ideas and they become ours together. If we continue to have this open and frank dialogue, we will always create the best products. It's like if you are a conductor for an orchestra – you cannot make good music if the players are not contributing at 100%."
The result for Icons was a flip top table that was agile, transformable and flexible. Plug it in and play, the Pop Flip Top has hidden power integration within the column, perfecting its flexibility of use. It's distinctive yet compact form is typical of Thyge's design elements – intelligently providing a furniture product that is streamlined, communicating the pure form.
"The fundamental thing is that the original idea in a project must never get lost, so in the process of finishing a design, it is about finding the clearest communication of the form."
Hans Thyge believes in the power of collaboration and that good ideas can come from many places. A designer, for him, is like a conductor of music – you need your orchestra to play in order for the piece to be successful. Evidently, this is how he works within his successful studio Hans Thyge & Co. A team of experts all dedicated to collaborating and bringing ideas to life.
"We believe that ideas become stronger through different views that verify and create important discussions around the design. By discussing the design, you get clarity of the intentions."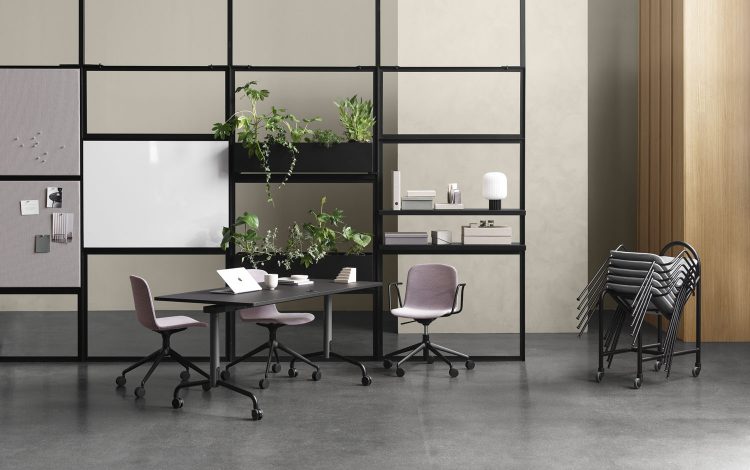 Set on castors with a slender frame, the table's flip top with abs edge delivers durability and increased strength. No matter the configuration, whether multiplied at scale or at a more compact size for single person use, Pop's agile nature means it can quickly fit to new activities.
"The Pop is a product that, I would hope, you would buy many of them to create flexible working spaces. Products like this need to be unpretentious, strong, and not too detailed while still conveying an immediate visual expression. I am happy with the design because it is so simple, with no elaborate or superfluous details."
Pop is available in 4 standard colours of Olive, Burgundy, Pewter and Black with two widths of 1600 and 1800mm.
View this post on Instagram
About Hans Thyge
Hans Thyge, founder of successful design studio Hans Thyge & Co is an established furniture designer based in Denmark. After receiving his training at the Danish Design School in Copenhagen, Hans worked as a stage designer for the theatre group "Dueslaget" in Denmark and collaborated with some of Italy's premier designers in Milan. Today, he leads his design studio, a talented collective that explores design through furniture, interiors and branding concepts.
The Pop Flip Top is the sixth product Hans Thye & Co have designed for Icons of Denmark.