The Office Group, Frankfurt
The Office Group's (TOG) newly opened coworking space Oper46 is situated within the centre of Frankfurt, Germany. Completed in January 2021, the building has already secured a number of tenants – attracted to the building's location and smart, well-designed interiors.
Within each of their locations, TOG aims to create a sense of place: responding to the context, culture and surrounding atmosphere of the city. Every workspace carries a unique identity, encouraging the people using the workspace to develop a connection with the interiors and harnessing a sense of community.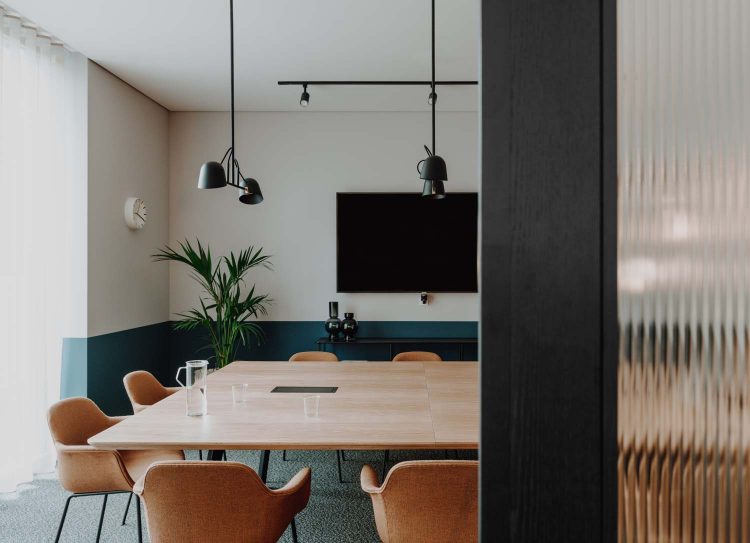 Oper46 centres itself by the large atrium in the middle of the building. With glimpses into the various levels, visitors and workers can observe the variation in activity within the meetings rooms, breakout spaces, private offices and open workspaces. This layout gives each level a distinct personality, separating the floorplan into different zones of activity, thoughtfully individualised through the use of colour and furniture. For Oper46, Head of Design at TOG Nasim Köerting chose bold, rich colours throughout the building's design to balance the city's quietly confident spirit.
Icons of Denmark was selected as a supplier for Oper46, contributing a number of Arena 4 Leg chairs throughout the building and within the rentable meeting rooms. The chair is a natural choice for boardrooms as its sculpted shell is based on the natural postures of the body, providing comfort and care with distinctive lumbar support. Whether it is for short or long periods of time, the Arena's seat cradles the sitters back with its ergonomic functions.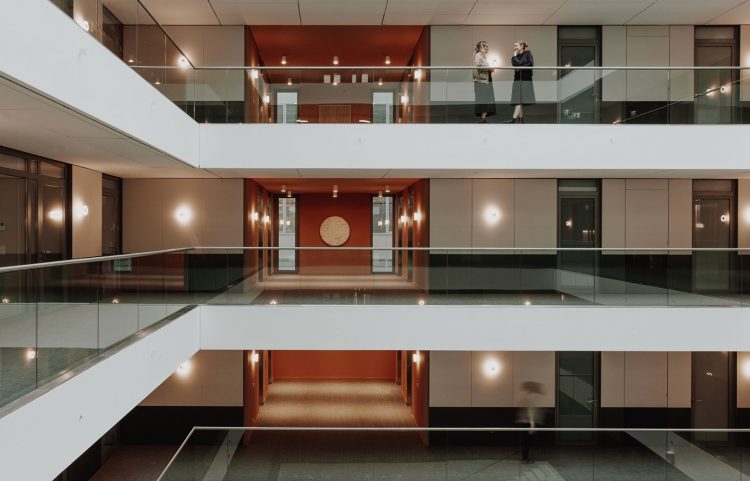 For The Office Group, the design and furniture choices were selected based on their ability to relate to the future and current tenants.
Nasim Köerting points out that "Frankfurt is a corporate hub, but one that's also entrepreneurial in spirit. A lot of the clients that have moved in already are innovative corporate companies, and brands like these always appreciate good art and design in offices – so the bar was set high." Even though the companies who occupy the rented spaces are often established and high-profile businesses, the building still needed to feel relaxed and welcoming.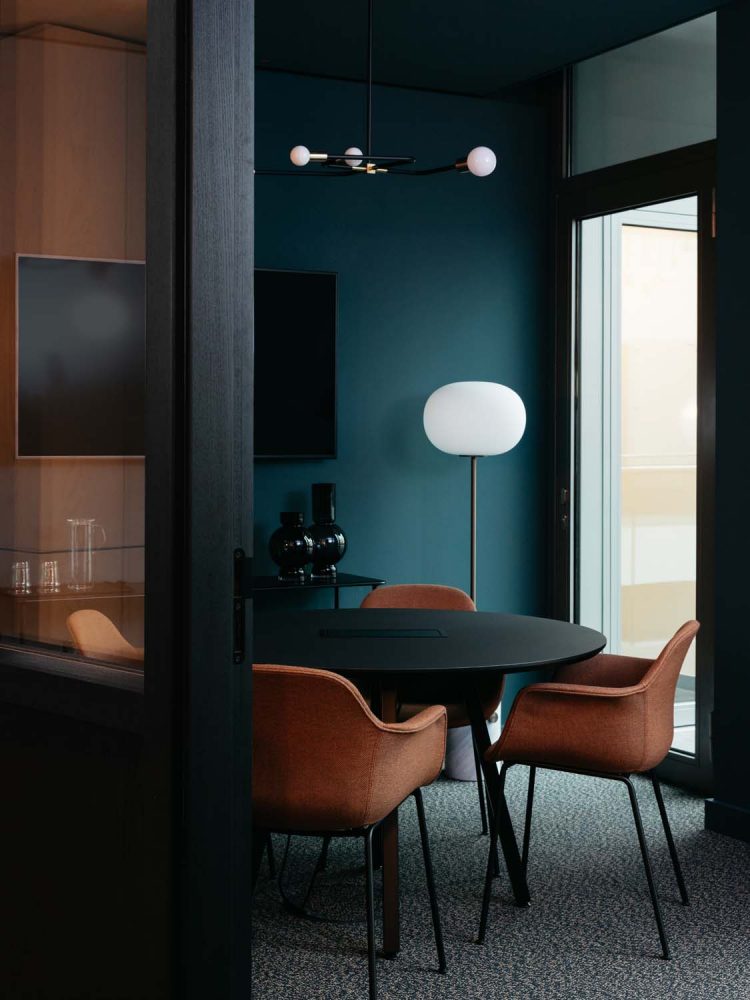 By choosing the Arena with the 4 Leg option it forms a classic combination – the organic shell sits on a simple metal base to counter the common corporate style of boardroom chair, and offers a relaxed, easy aesthetic for the office design. The base is fundamentally stable, inviting the user to sit back and be comfortable, leaning naturally into the curved silhouette while it intuitively follows the body.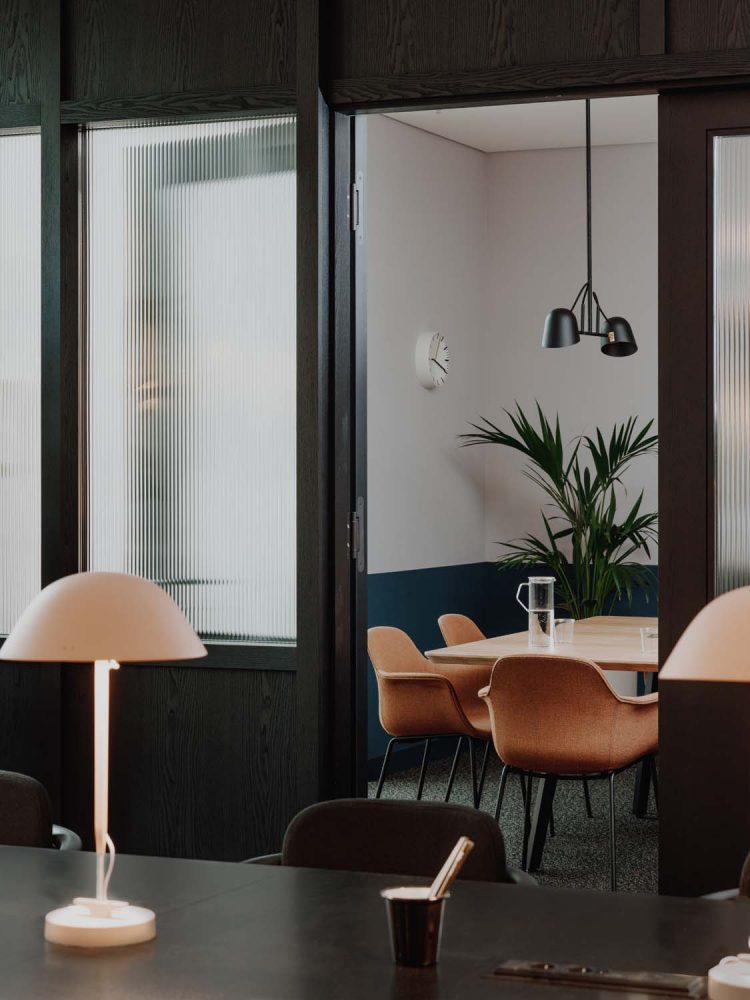 Oper46 is an ode to the modern office that encourages its occupants to experience work how they want to. Whether it is through creating unique zones or providing furniture that challenges typical commercial interiors, their coworking spaces represent connection and individuality through flexible, inclusive environments.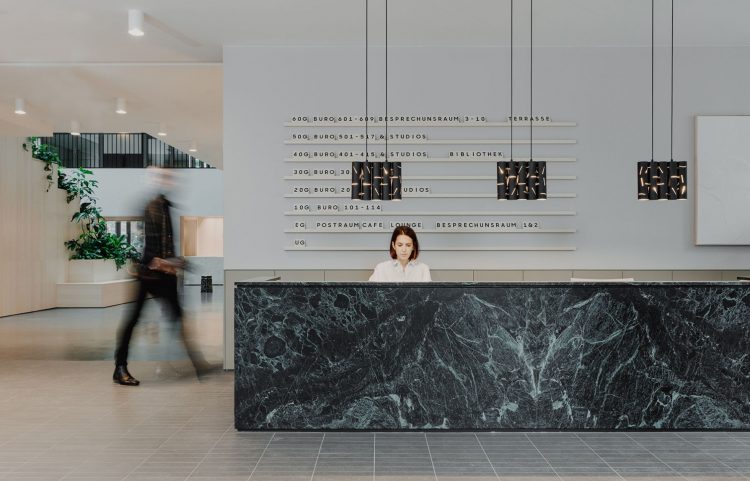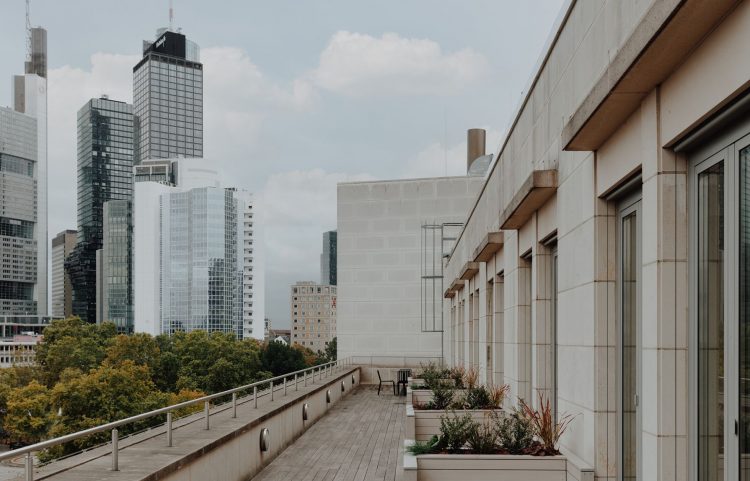 Products used in this project