Amagerstrand – United, Copenhagen
Architects Tegnestuen Vibeke Brinck and Studio Heima collaborated to design a new coworking space in Amagerstrand, Copenhagen.
Designed to encourage collaboration, openness, and creativity, the 'office hotel' accommodates both serviced offices and coworking spaces.
A short distance from the airport, Amagerstrand is part of a flourishing area with the world on its doorstep.
Wanting to cultivate the postmodern architecture of the building and the original function as an SAS building the architects were inspired by the '80s and '90s perforated surfaces, cobalt blue and bright colours in general.
Throughout the building, burgundy and orange finishes are present referencing the colour palette in the entrance atrium which had been designed by Tegnestuen Vibeke Brinck and Studio Heima previously.
Each private meeting room or serviced office available to rent are separated by large nearly black doors which contrast against the white lamps and furnishings, creating a refined industrial aesthetic.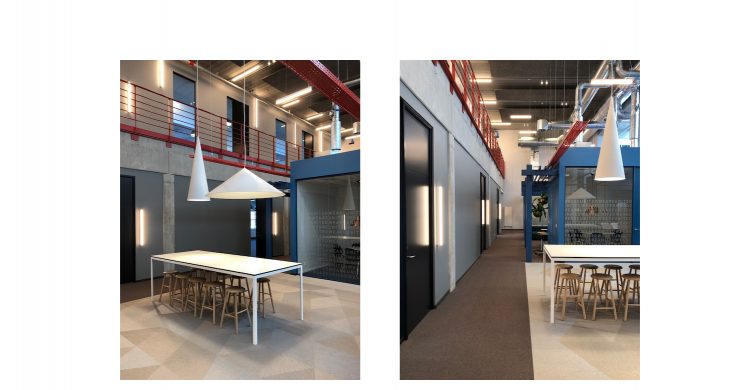 Throughout the project, the Kant table series was specified for both workstations and meeting tables. Chosen especially for its flexibility, the tables were created in bespoke sizes, heights and colours to provide an environment for a variety of activities.
In the main atrium, the Kant table is at a special height of 900mm to accommodate the stools, creating a casual and spontaneous meeting area.
In one of the large shared spaces, the Kant Unlimited is used as a workstation. Specified with a dark red linoleum table top and white frame, the two colours provide contrast whilst continuing to reference the surrounding interior palette.
Drop-in power and data covers were integrated into the workstation to create a practical solution for storage of cables and power banks.
The Kant Unlimited sits in the private meeting rooms. A bespoke red RAL colour was chosen to reference the industrial metalwork in the atrium and across the structural beams.
Products used in this project