Our work towards a sustainable future
How can we strive to create a more sustainable future? It's a question that is constantly being reviewed and attempted to answer around the world. At Icons, this is no different. We are consistently assessing our present and future goals to create a more sustainable business and looking at new ways to improve our own ecological impact.
By setting goals for ourselves, investing in environmentally conscious businesses, experimenting with innovative materials and holistically thinking about the lifecycle of our products, we are able to take significant steps to improve sustainability within our business model.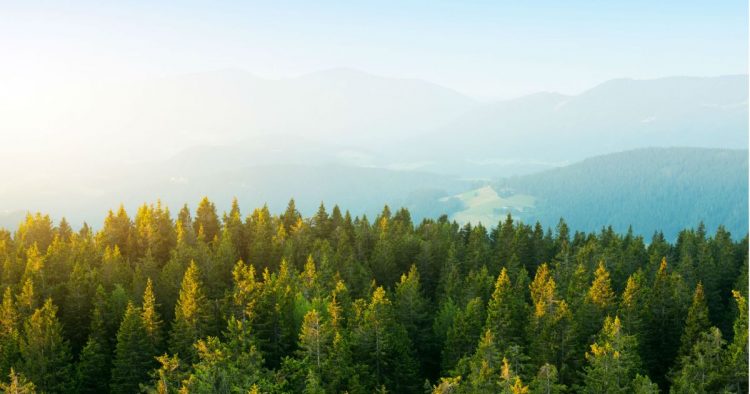 Made in Denmark, something to be proud of
As part of the annual study of Environmental Performance Indicators (EPI), funded by the World Economic Forum and the European Commission, and carried out collaboratively by Yale and Columbia Universities, 180 countries submit their environmental performance and initiatives.
2020's results were released early in February with the announcement that Denmark was awarded first position as the top-ranking country for Environmental Performance. Since 2006, Denmark has consistently ranked within the top 35 countries, and are often included within the top 10 for their environmental initiatives.
With this in mind, Icons of Denmark is proud to manufacture our products in Denmark. By investing in Denmark's economy, it not only pays tribute to our heritage, but it provides us with confidence that our products are manufactured in a country that is internationally recognised for its high environmental standards and forward-thinking approach to sustainable manufacturing.
Keeping ourselves in check
In September 2020, Icons was awarded the ISO 14001 and ISO9001 certification. In doing so we recognised the need to create an environmentally friendly business model and set ourselves goals in order to achieve this.
ISO 14001 recognises that Icons is striving to create more sustainable manufacturing processes. We are dedicated to improving this through a series of goals determined by an internal set of guidelines.
ISO 9001 has been awarded to demonstrate our commitment to optimising our quality procedures, ensuring our products are produced to the highest standard.
Our products are continuously sought after for large-scale office projects worldwide of which the vast majority of them set sustainable initiatives within their building specifications. For us, it was important that we could contribute and be able to adhere to globally recognised environmental and quality standards through our furniture and business structure.
Want to learn more about the goals we have set out to achieve this year? Click here to read through our pledge to stay ISO compliant.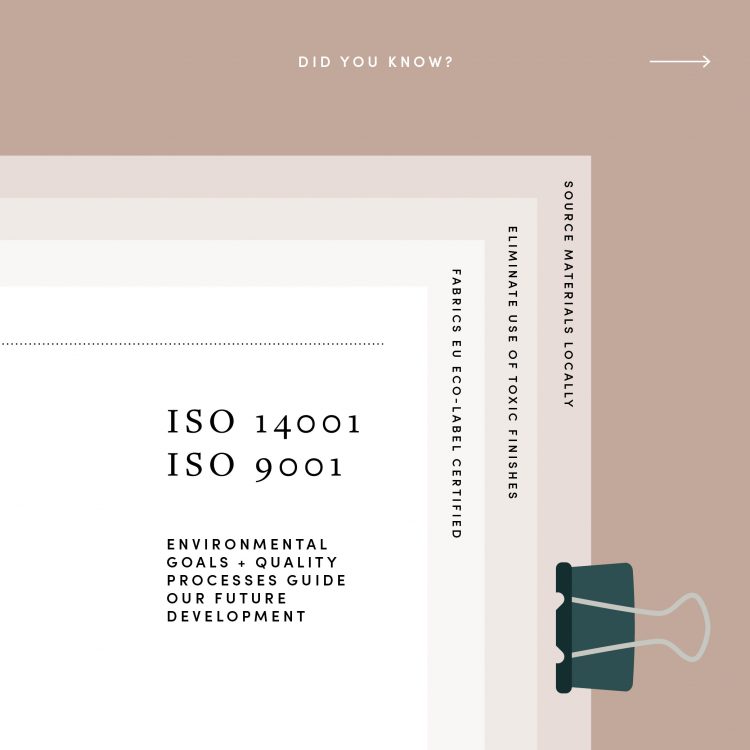 Partnering for sustainability
As part of our drive to offer more sustainable options for our clients, we have partnered with Kvadrat and Sorensen leather for our offering of standard upholstery options.
Both companies are committed to improving their sustainability index through internationally recognised certifications such as the EU Eco Label, Green Guard Certificate and Nordic Swan Label.
We work closely with Kvadrat and Sorensen to choose materials which are best suited to our furniture, ensuring we are offering suitable workplace products that are not only environmentally conscious, but will stand the test of time in a commercial environment.
Contact our team to find out more about our standard fabric and leather ranges.
Our exploration of innovative materials
Besides partnering with like-minded companies, we also like to look into our own ways of pushing the boundaries with the materials we use to produce our furniture. By exploring innovative materials such as cork (the Bark Lounge) and recycled polypropylene (Sky Chair) we are committed to offering alternative and eco-friendly solutions in our products.
Our Bark Lounge is one of the first commercial lounge chairs to be made of cork – a renewable, natural material that can be recycled and reused again and again. Additionally, it is also naturally fire retardant, meaning that it isn't necessary to treat it with hazardous fire-retardant chemicals.
In June this year, we will be launching a recycled polypropylene shell for the Sky Chair range. Made of recycled plastic, repurposed from the car industry, the shell of the chair can be continuously recycled to limit the use of new plastics in the environment. With the same strength and durability as the virgin plastic shell of our Sky Chair collection, choosing the recycled option can help to contribute to your environmentally certified building requirements.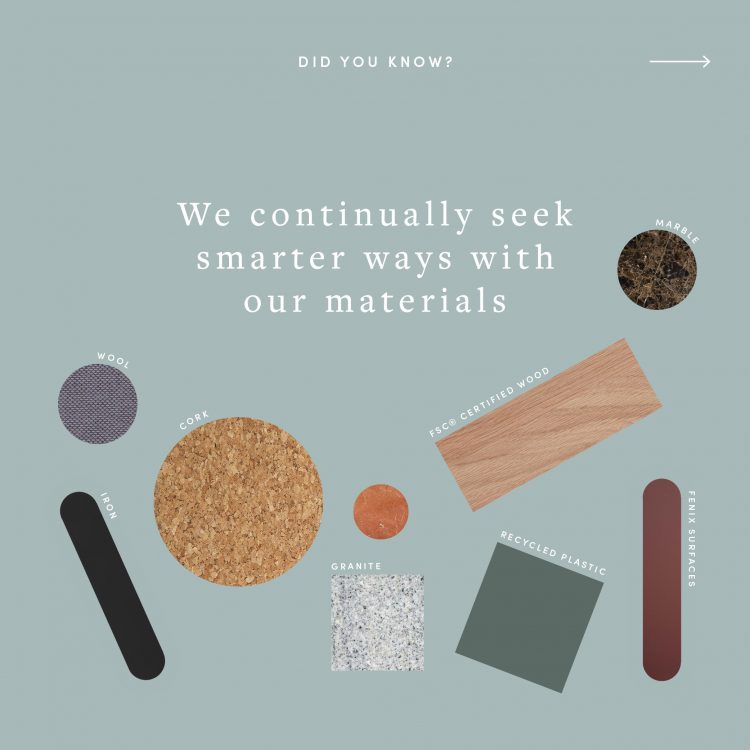 The longevity of reconfigurability
Being a sustainable business is not just about finding new ways of working or introducing new materials to the market. For Icons we take pride in creating products that last for generations. Whether that is through high quality manufacturing or being reconfigurable as a key feature, we are stepping away from the markets need for constant change and 'fast furniture'.
All of our collection is built to sustain the activities of modern working environments and providing our customers with longevity of use. Along with their high-quality construction, we provide a 5-year manufacturers' warranty and will replace or repair parts as our first course of action. This limits the need to replace the product, giving it an extended life which we know will be for generations.
Additionally, we design a selection of our products to be reconfigurable so they can grow with you and your business. The 4T system, EC1 Sofa and Bank Sofa are all product systems that can be reconfigured and added to depending on the spaces need.
Learn how our 4T system and Sofas can be reconfigured to suit the growing desires of your business.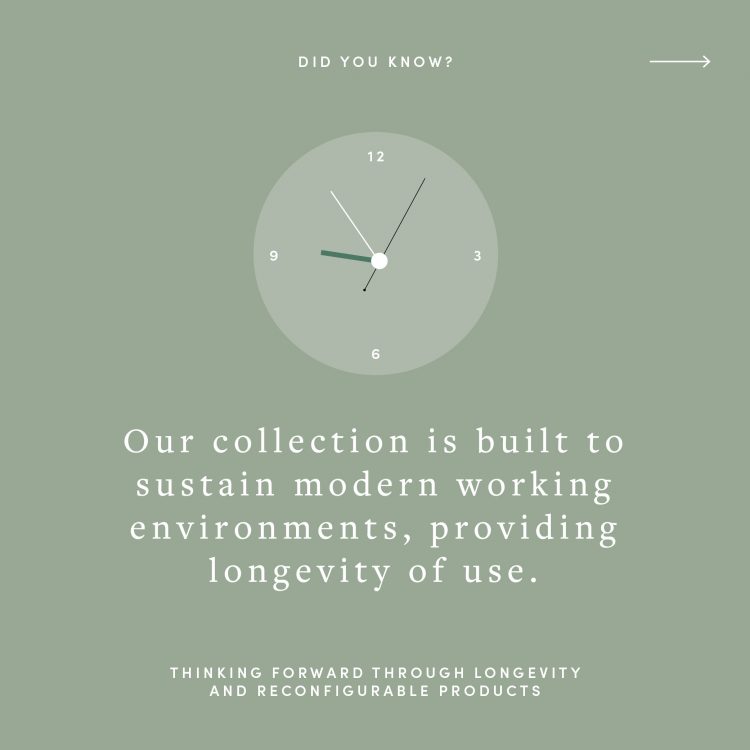 Looking to the future
For Icons, this is just the start of our journey of reworking our business and manufacturing into becoming a better and more sustainable organisation. Through a shared agenda, and awareness, we are focused on bringing forward innovative solutions while minimising our impact on the environment through the limit of toxic materials and substances, providing quality, reconfigurable and longevity-focused products.
Keen to learn more about our sustainability goals? Contact a member of our team to discuss our initiatives.