Finding a chair that can support the postures and demands of modern working habits can be daunting, especially within the rapidly evolving workplace.
From our work with leading workplace interior designers and global clients, we have seen how seating needs to satisfy key elements for any user: comfort, longevity, flexibility and mobility – all in a form that is pleasing to the eye. Knowing this, we have put together a useful guide of key considerations, to help you select the right chair to suit how and where you work.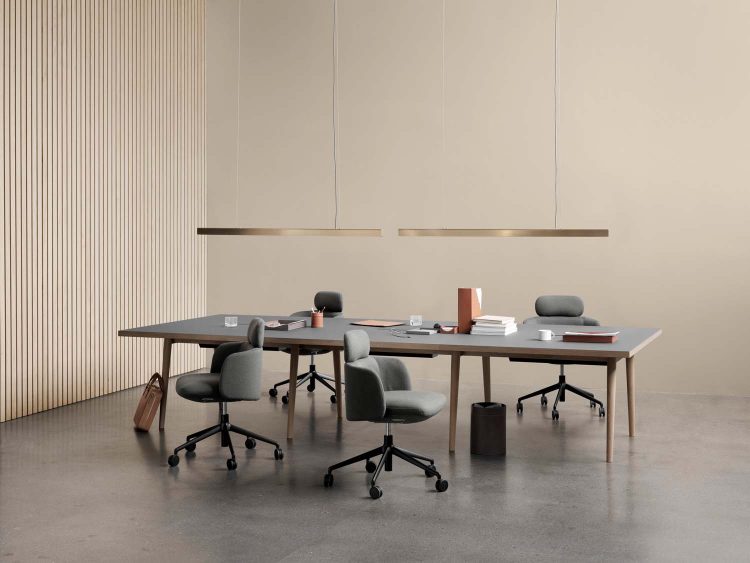 1. Seek out and prioritise comfort to stay supported
Did you know on average, office workers typically spend 1700 hours per year, sitting at work? That means, our bodies need to be well-supported and given a high level of comfort to ensure tasks can be productively met. Determining comfort in office chairs involves understanding a number of design and manufacturing factors, including using the right cushioning, durability over time, the type of lumbar support, the height of the seat back and in some cases, the angle of the arm rests.
Crossover: an all-day chair providing comfort for an extended stay
Designed by Hans Thyge & Co, Crossover is a meeting point between two concepts – the ergonomics and functionality of a task chair combined with the sophisticated profile of a meeting chair.
The result is a unique design: an all-day chair that draws the eye and provides comfort for a spectrum of work activities, whether in a meeting or at a workstation. When seated, Crossover responds to the natural postures of your body with a synchronised tilt mechanism. This connects your movements with the chair and cradles different postures throughout the day. To keep things effortless, Crossover is weight-activated and has only two manual adjustments for seat height and tilt activation.
2. Look for longevity and quality
The workplace of today is fast moving, as are our lives and how we use spaces. Wear and tear is a natural part of product use, but its arrival can be prolonged by ensuring the product supports high-quality production and aims for the utmost longevity. Fabric in particular must be breathable and long lasting. A fabric made with either a part or 100% wool ratio provides support for cleanliness, colour fastness, comfort and form, keeping your chair looking new for longer.
Arena: a meeting and hot-desking chair supporting lengthy sits
The Arena family works seamlessly together, transforming from a long stay meeting chair to a dining chair. The sculpted curves of the polypropylene shell invite visitors to sit while the backrest softly cradles the sitter's postures – perfect for conference spaces, hot-desking and meeting rooms. Arena can contrast from a luxury Arena 4-star upholstered for formal meetings, to semi-formal hot desking environment with Arena 5-star with gas lift designed for lengthy four hour sits, all the way to Arena Wood: a shell with timber legs in café environments. The visual language of Arena is holistic and connects across the workspace.
3. Choose a design and form that is timeless  
When selecting a chair, ensuring a timeless, simple design that will blend into any surrounding is key. Form will always follow function, though that doesn't mean you need to compromise on a design that is pleasing to the eye.
At Icons, our clients often discuss finishes that are echoed across our wider collection. Together, we select a unique colour story, often inspired by the way we have curated our products for modern work. We make sure what we select is suitable for their end purposes and work harmoniously together. Each of the chairs showcased in our collection, ensure that the look and feel will suit your work environment well into the future, offering opportunities to adapt the materials selected and combinations in which they are used in complement with each other.
4. Consider flexibility, variety and choice, to fit into blending settings
The modern work environment changes rapidly, as do the activities within it. As workers, we need to shift between tasks quickly and use furniture which seamlessly supports our day-to-day. When selecting a chair for your office, think about the intended use: where will it be used, does it need to move between areas and how it will work with each setting? Does it need to fit to different tasks? Does it need to have a surface which is easy to maintain? Does it need to be more formal or does it need to stack?
Sky: perfect for flex rooms, training or casual meeting environments
Designed by Mia Lagerman, Sky is designed to match your activities in the workplace. Sky can take the form of canteen chairs, flexible training room chairs, and casual meeting chairs for a moderate – medium stay. Perfect for hot-desking and flexible workstation environments, as well as collaborative spaces. Sky helps clear and transform environments rapidly, with a 500 x 500 mm footprint, helping you add seating in moments without compromising on space.
Sky can also adapt to your design style. Even with fewer parts and fewer materials, Sky remains everything a meeting chair should be. From a metal or wood base, to upholstered or unupholstered seats: this range of chairs can accommodate a multitude of interior settings and styles.
Nam Nam: the ideal companion for dining areas and high table work settings
The Nam Nam chair consists of a moulded shell made of treated or painted veneer (with or without structured powder coating) and is available with optional seat upholstery. The Nam Nam stool consists of three main parts which, in various colours, can be combined in countless ways. With a small footprint, the Nam Nam is perfect for adding more chairs to a table in a dining space or providing support for high table work areas without sacrificing comfort.
5. Ultimately, what is most important for how the office chair will be used?  
Given the number of activities we know the modern workplace needs to support, this also challenges us to think about choice and variety in the chairs the workplace truly needs.
If you're searching for an all-day chair, providing comfort for a long sit and for use at a hot-desk or workstation, we would recommend Crossover. For meeting chairs, a semi formal or formal 4-leg and 4-star base, or a 5-star with gas-life and tilt for hot-desking would be a great way to adapt Arena for the workplace. For dining areas, and high-table workstations, the Nam Nam with low or high back fits seamlessly into your workplace. Alternatively, if you seek flexibility and being able to add and reduce the number of users swiftly, we would recommend the highly adaptable Sky family across flexible training rooms, casual meeting zones and canteen spaces.
So, we ask you: what is important for you in finding the right office chair, and ultimately how will it be used?
Connect with our sales team to learn more about how each of these products might work independently or collectively within your workplace environment, and discuss how they can adapt to your changing settings.