Designer Interview: Hans @ Hans Thyge & Co.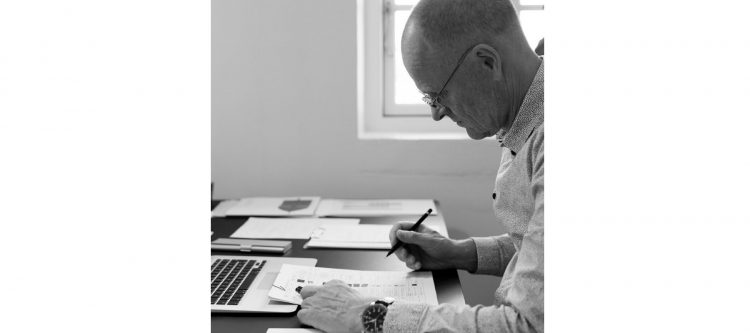 Hans Thyge Raunkjær is an award-winning designer based in Nosminde, Aarhus.
After receiving his training at the Danish Design School in Copenhagen, Hans worked as a stage designer for the theatre group "Dueslaget" in Denmark and collaborated with some of Italy's premier designers in Milan.
Today, he leads his design studio, Hans Thyge & Co, a talented young collective that explores design through furniture, interiors and branding concepts.
1. You say on your studio website, "It all starts with the power of imagination." What sparks your interest when creating something new?
Design is about telling stories. When describing these stories, you need to be able to build up things in your mind or to let things come to your mind. If you then take the essence of this, Design is about "the power of imagination".
Many people think design is just about sketching until interesting things appear on the paper, but that is not true. All our expression – whether writing on a piece of paper or playing a piece of music is about revealing something within yourself and as such all expressions become a mirror of all the cultural experiences we have gained. Being an artist, musician or designer is about being able to transform all this heritage into imaginative images or forms. To tell stories that touch our emotions.
2. Tell us a little about you and the studio – what does an average day look like?
We at Hans Thyge & Co. are working with product design and concept development, so we collaborate on designs similar to Icons of Denmark's Woodstock table project, sometimes even larger. There are always 30-100 designs in motion at different completion levels in the studio, so we're moving from project to project in a continuous flow. We think this is a good process as too much focus on one project can often block your view or create too many "darlings" across your portfolio.
Working on many designs at the same time creates a freedom and a nice exchange of ideas between the different designs. In the studio, each designer has a responsibility for their own designs, but we work in an open structure, where all designers can come with their inputs or critique projects if we think something does not work.
The fundamental thing is that the original idea in a project must never get lost, so in the process of finishing a design, it is about finding the clearest communication of the form. We believe that ideas become stronger through different views that verify and create important discussions around the design. By discussing the design, you get clarity of the intentions.
3. What advice would you give a young designer?
Work work work. It is as difficult to become a good designer as it is to learn to play Mozart on the violin. You need to rehearse over and over again. From the "Power of imagination" to creating a finished product it is a long way. 90% of the process comes from hard work and your experience of how form, material, colour etc. work all together to tell your stories precisely.
Get some practice in a studio or working directly in a company as only working on and improving on real things makes you grow.
4. Talk us through the collaboration with Icons of Denmark on the Woodstock
Woodstock was a tough start, and our first attempt was not what Icons of Denmark required. However as our experiences before have proven, early struggles create a more definite discussion about what is really needed.
What we found was that Icons of Denmark wanted a softer feel of a table for the office environment in a combination of wood and metal. This concept immediately spoke to us, and it came easily in the second round of design concepts to do a pared back and simple system based on a wooden pole and a fixed cast-aluminium leg.
As soon as we had understood the construction of the table, this became a styling task. And of course, the dialogue about the many details, such as table sizes, electronic integration, cable trays etc., formed a long road towards completing the entire system we know today.
We like the Woodstock and think it is one of the most interesting pieces we have worked on recently. It has the unique combination of simplicity and complex tactility born of the materials blending together.
5. What designs have captured your imagination recently?
I am very much into iconic things such as classic cars and old sailboats. This summer I saw ten-year-old America's Cup yachts at a show in Denmark, and it was one of the biggest blasts I have had for many years. The elegance and attention to detail and form are sublime. You can really tell with these wooden racing machines on the water that form follows function with real beauty. On vacation in Sweden, I saw smaller versions of these racing boats, built for the Swedish archipelago. This boat is called a "skærgårdskrydser".