Plus X, Brighton
Plus X designed by Studio Egret West is Brighton's newest center for innovation. Balancing between coworking hub and rented office space, the building comprises of 53,000 sq ft split across seven levels with various technical labs, short term let spaces, hot-desking and meeting rooms.
Predominantly aimed at creative and tech start-ups the innovation hub supports small-size businesses providing them with the tools, not often accessible, to develop products and concepts. With facilities such as CNC machines, multi-media and podcast studios, electronics labs and laser cutting equipment, the center's entrepreneurs have the opportunity to experiment and create.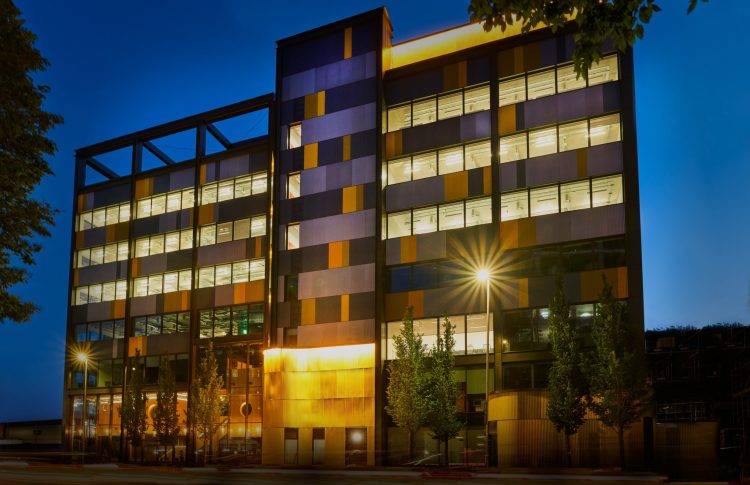 Considered one of the healthiest buildings in the United Kingdom, Plus X is soon to be WELL Platinum certified and meets all the requirements to be awarded BREEAM Excellent. Putting people at the heart of the building, environmental aspects are tightly controlled – air quality is constantly monitored for increased levels of dust, humidity and CO2 levels, and extensive biophilic design is seen throughout the interior allowing the workers to feel connected to nature. It is also Brighton's first rooftop terrace where edible plants and flowers are in abundance to support biodiversity while offering an additional social space for warmer months.
Paul Rostas, Co-CEO of Plus X, recently commented to Mix Interiors – 'Our Plus X Brighton innovation hub has been designed to help businesses innovate, collaborate and grow. We worked with Studio Egret West and U+I to create a standout seven-storey building infused with colour, light and work and meeting space shaped for positive and creative productivity. As well as being one of the healthiest buildings in the UK with world-class air quality control, rich biophilia and a living green rooftop offering 'dream big' views, we believe our unique services and facilities will make the innovators of the future.'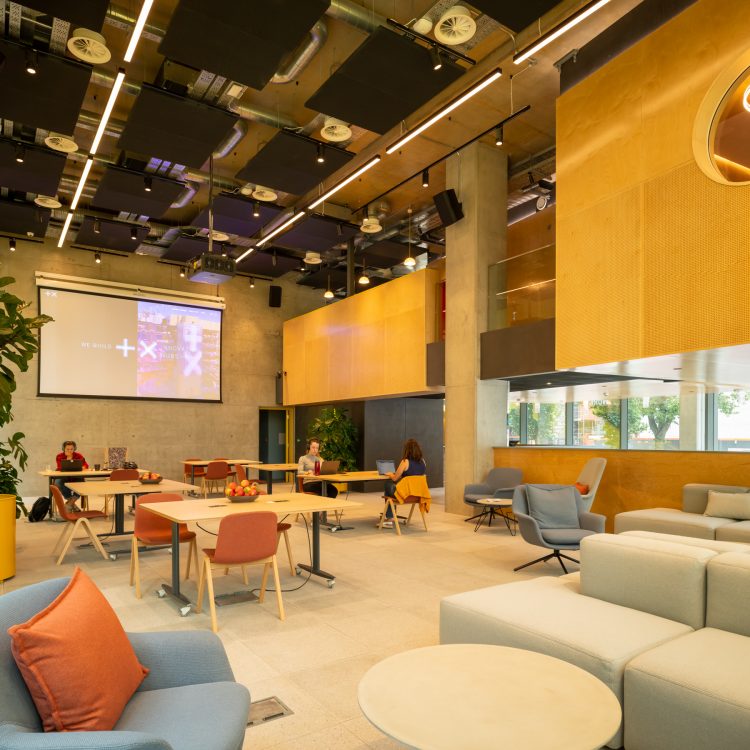 Icons of Denmark is pleased to have been selected as a major furniture supplier for Plus X Brighton.
Of particular note are the 180 Sky Wood chairs, chosen for the multi-purpose hot desking and event area. Being stackable, the chairs are used within the large event space and complimenting flip top tables allowing for quick and easy storage.
Even as Plus X focused on flexibility and ease of storage, the commitment to their guests' comfort is still present. The Sky's curved shell is designed to offer lumber support for the user, allowing for longer periods of work if required. Choosing a clear lacquer oak finish to compliment the upholstered seat carries through the biophilic principles of the building's design, bringing in a natural warmth to the large room.
Additionally, throughout the cafe feel open corridors, a collection of grey Sky Wood were used for the high traffic area. And in the rentable office spaces, 20 of our Sky 5 Star castor base were selected to purposefully link the spaces together with furniture designs.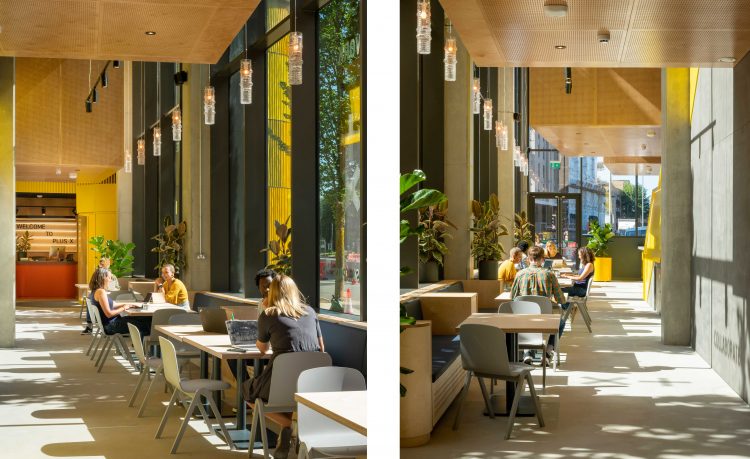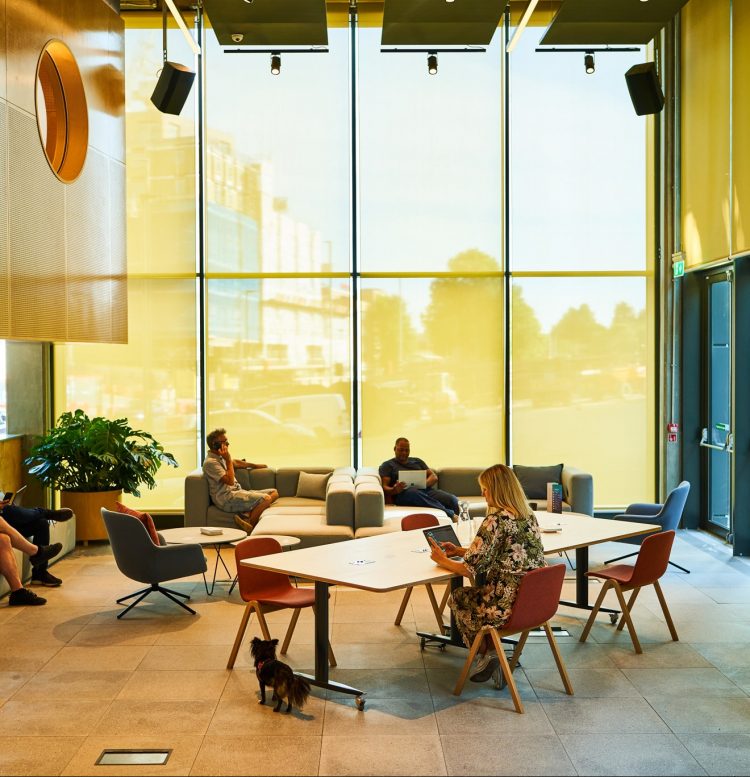 Within the ground floor's open lounge area, a group of high and low Smile Lounge chairs, paired with a large EC1 Sofa configuration and Twist coffee tables were selected to offer flexible working spaces. Functional yet comfortable, these three pieces all contribute differently to the lounge area.
The Smile Lounge offers the user an active position, slightly reclined with subtle lumbar support for the back, but upright enough to retain a working posture.
Plus X opted for power integration in the EC1 Sofa, maximising the potential for flexible working in the lounge. With the increased seat height and decreased depth, the sofa modules offer an ergonomic alternative to a lounge or desk chair.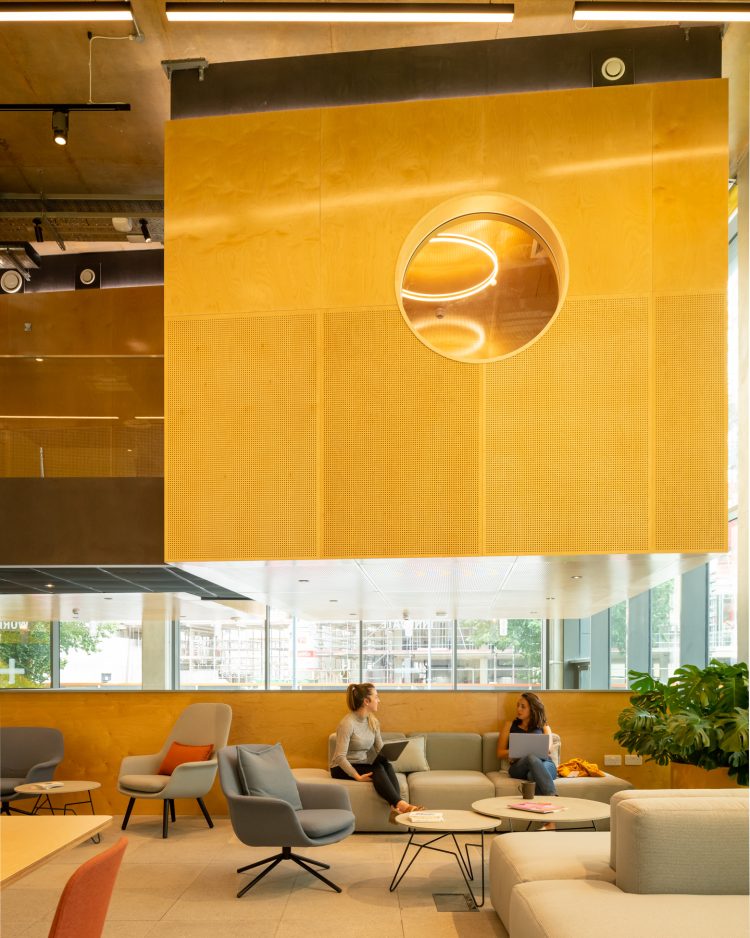 Within the meeting rooms located on the central floors, the Arena with 4 star castor base were used. The upholstered meeting chairs create a more luxurious feel to the meeting rooms, with the sculpted shell encouraging a sense of comfort and providing support for longer meetings and collaboration.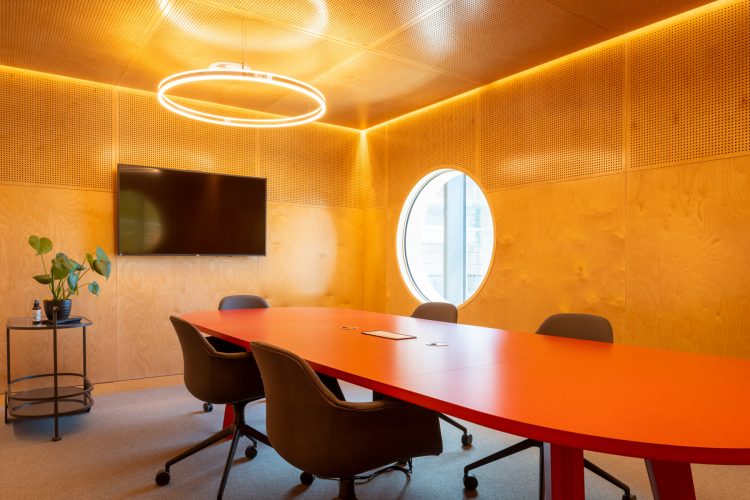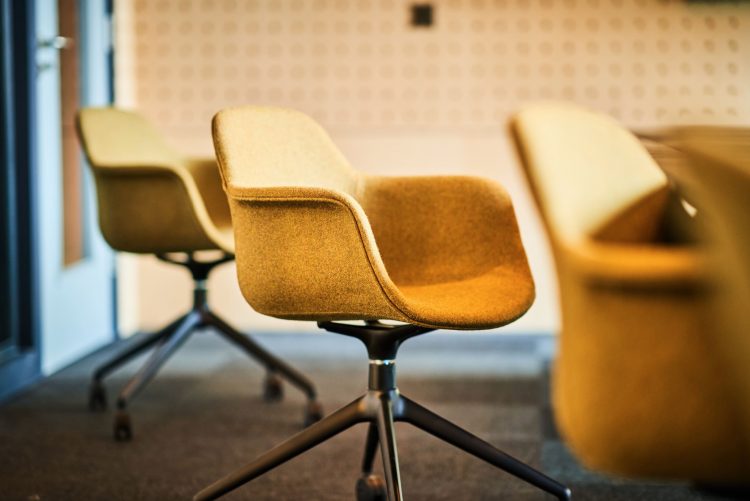 Through the help of U+I (the rightly proclaimed property and location regeneration specialists), Plus X Brighton is the first in a network of innovation centers aimed to support the local economy and help to regenerate long forgotten areas of the United Kingdom. Creating a hub to foster and promote the talents of Brighton's local economy, the building is predicted to bring 160x more social and economic value than that of a traditional office. Through their purpose-built structure, to the collaboration rooms, high tech labs and prototyping studios, Plus X Brighton is part of a wider academic and economic corridor in Brighton, creating over 1,500 jobs and delivering 369 new homes and 534 student bedrooms, as well as a new home for the University of Brighton Business School.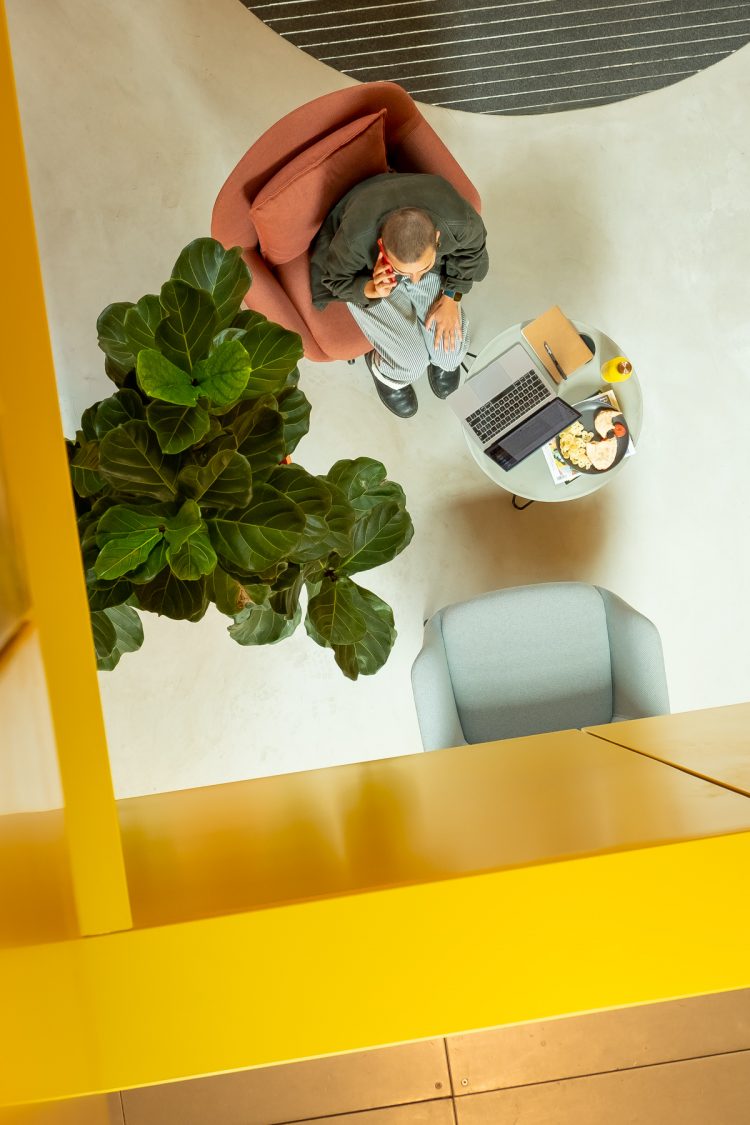 Products used in this project