KSB, Frankenthal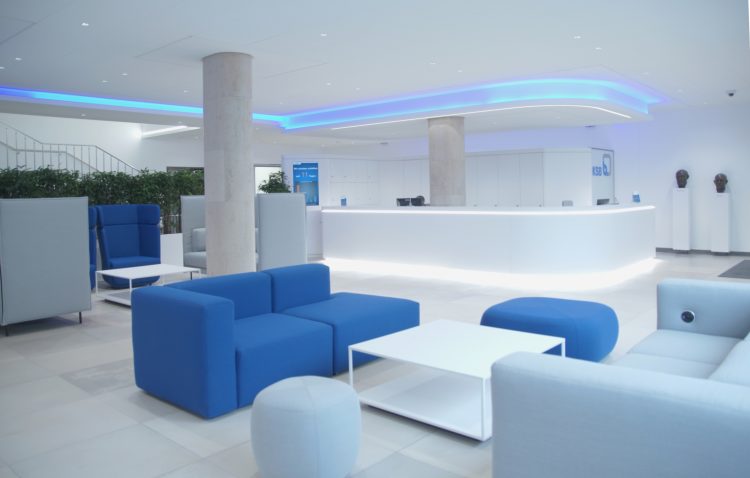 Founded in 1871, KSB has been the world's leading provider of industrial pumps and valves for over 100 years. The company is represented in over 100 countries and employs more than 16,000 people.
For the group's headquarters in Frankenthal, Germany, KSB wanted to extend and update their reception area and ensure it reflected their branding and made a great first impression on visitors.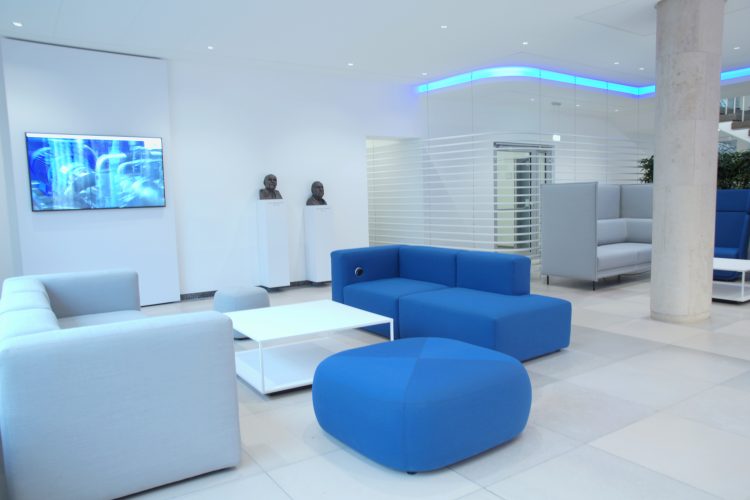 Projekt 62 Architects applied KSB's branding of cold, muted greys and ocean blues throughout the space – including the fabric choices. Where these colour temperatures could create a chilly atmosphere, Projekt 62 specified the soft contoured EC1 sofa and Firkant poufs to cultivate a relaxed ambience – inviting visitors to sit in a clean, bright space.
The EC1 sofa offers integrated power and data for visitors waiting, while the Firkant poufs are easily manoeuvrable and perfect for creating huddle zones for quick meetings.
To provide visitors with an alternative to the open setting of the EC1 sofa, the Private High Back was specified. The high walls of the sofa provide visitors with a visual and an acoustic shelter, enabling them to focus on concentrative work or host informal meetings – without the need for partitioning or room division.
Frank Wiedemann from Projekt62 Architects suggested,
"The furniture collection from Icons of Denmark convinced us from the beginning. Clear forms with excellent workmanship, large selection of materials and innovative details such as the integrated socket enable a wide range of applications."
Products used in this project