Global F&B Company
Signal Arkitekter in Copenhagen was appointed to refurbish this global Food & Beverage Copenhagen headquarters, with the help of furniture partner Jensenplus.
Supporting the change to hybrid, activity-based working post-pandemic, Signal Arkitekter designed an effective and colourful solution for the company's new way of working.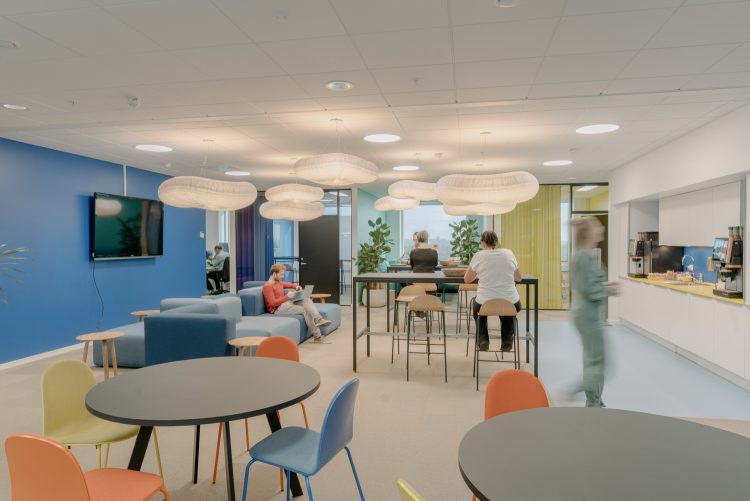 The centre point for the office, and what Signal Arkitekter has named the 'Plaza', acts as a meeting point between two business units. The space offers a shared area for collaboration, breaks and a staff canteen for the team with variations of seating options.
The modular EC1 Sofa, upholstered in two different blue Kvadrat fabrics, creates a lounge space that can be reconfigured depending on the activity required.
To accompany the dining and meeting tables, the Nam Nam 4 Leg chair is used in various unique RAL colours, selected by Andrew Lo, Head of Design at Signal. While a standard Nam Nam 4 Leg stool with oak seat and black steel legs sits with high tables within the canteen area.
"The carefully selected items from the Icons collection, neatly embellish the bold design concept and colour scheme to present attractive and fun settings for focused work, collaboration and community. Icons' ability to work with bespoke colour finishes and fabrics greatly helped the design process and to achieve the vivid compositions." – Andrew Lo, Head of Design at Signal Arkitekter.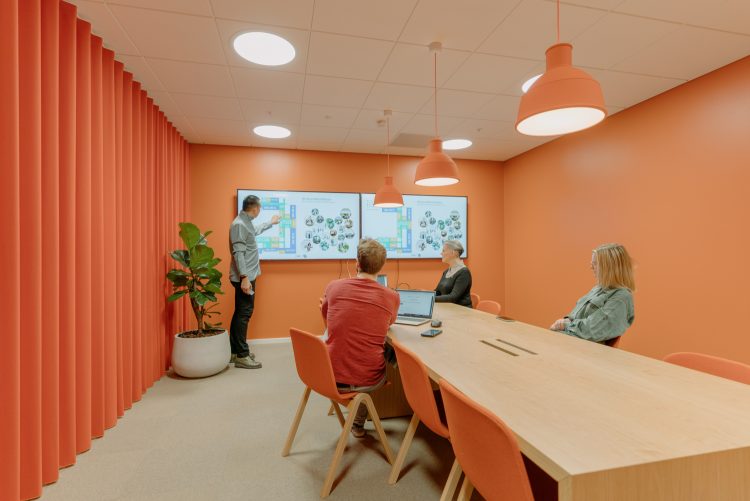 Throughout the bookable meeting rooms, upholstered Sky chairs on wood bases are used. Known for their stackability, the chairs facilitate a flexible, reconfigurable meeting room.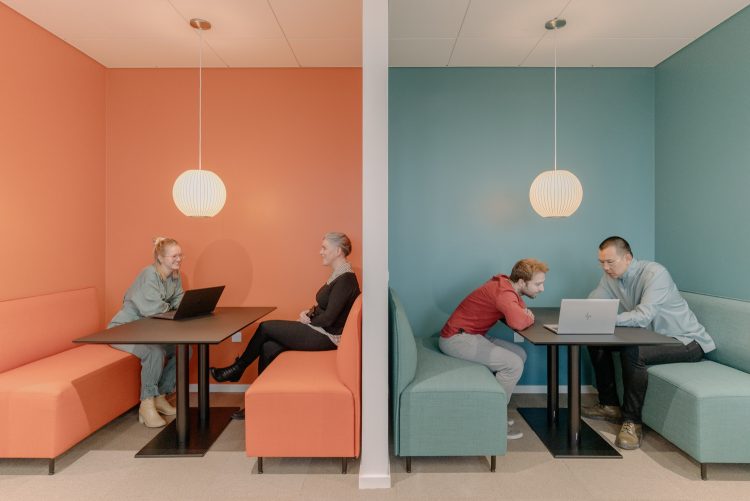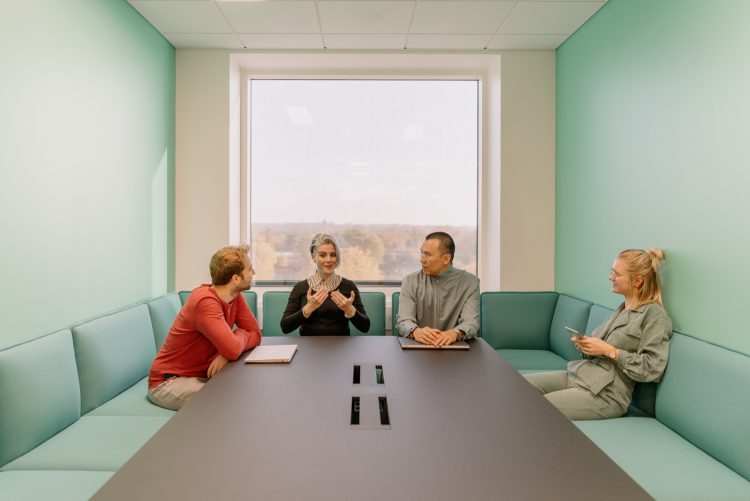 Where banquette seating is needed, Signal chose our Bank Sofas. An off-the-shelf banquette solution, the Bank comes in 3 different sofa module sizes allowing for different configurations in the same aesthetic and avoiding the need for bespoke joinery and upholstery.
Throughout the project, Signal Arkitekter used colours and visuals to reflect the client's contemporary global outlook, culture, and identity. It focused on well-being, creating separate areas for exercise, massage, and yoga, as well as being Copenhagen's first at work pet hotel for employees' furry friends.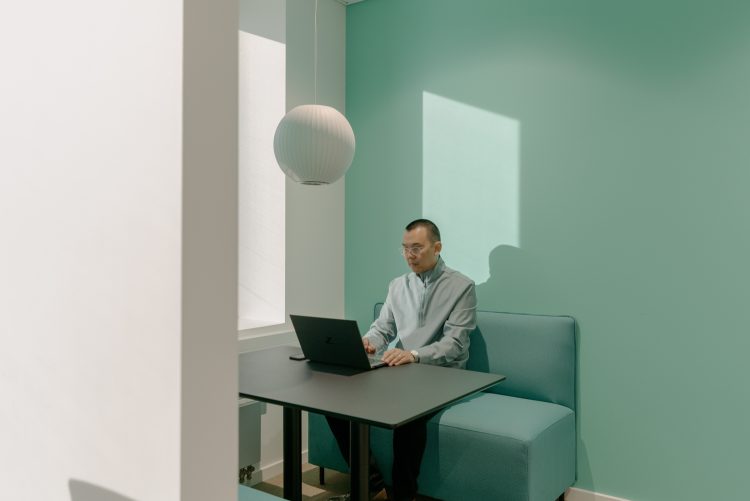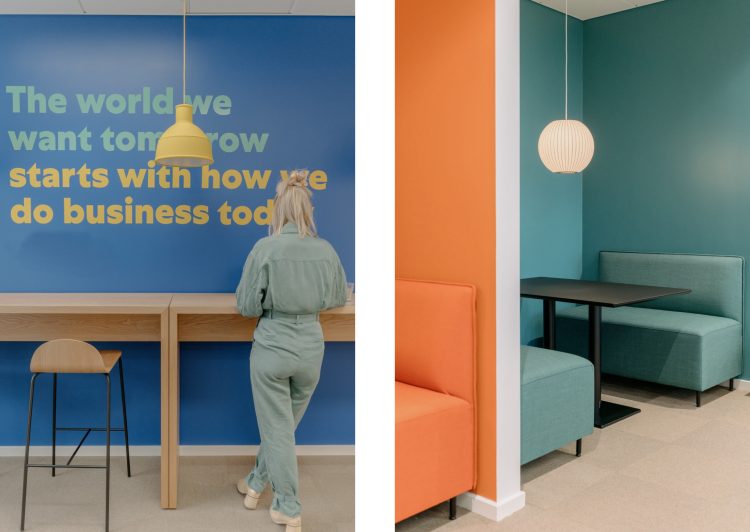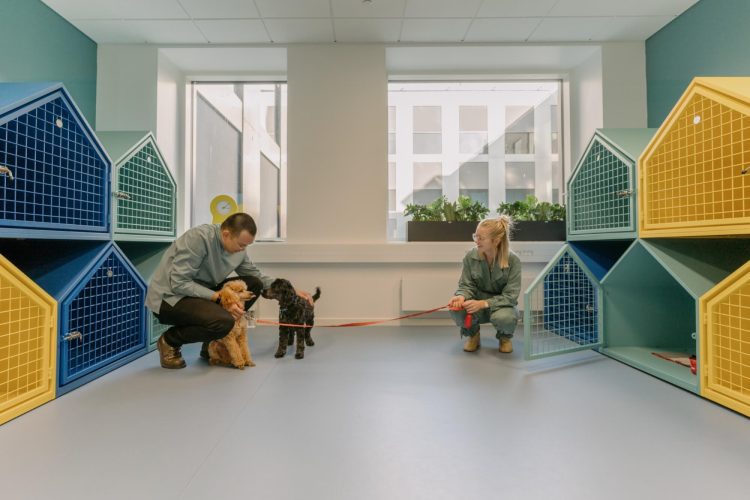 Products used in this project