Cognizant
Enhancing Collaboration and Sustainability: Cognizant's Innovative Workspace Transformation
Innovative technology company Cognizant consolidated their teams from five satellite offices into a unified headquarters within London's Spitalfields. This monumental shift demanded not just a change in location, but a fundamental transformation in how the workspace functioned and engaged its occupants. Bringing this vision to life were global architecture and interior design practice, Perkins + Will (P+W), with the help of furniture providers The Furniture Practice (TFP). The two firms tasked Icons of Denmark with delivering large configurations of 4T System booths, each with bespoke finishes and colours choices.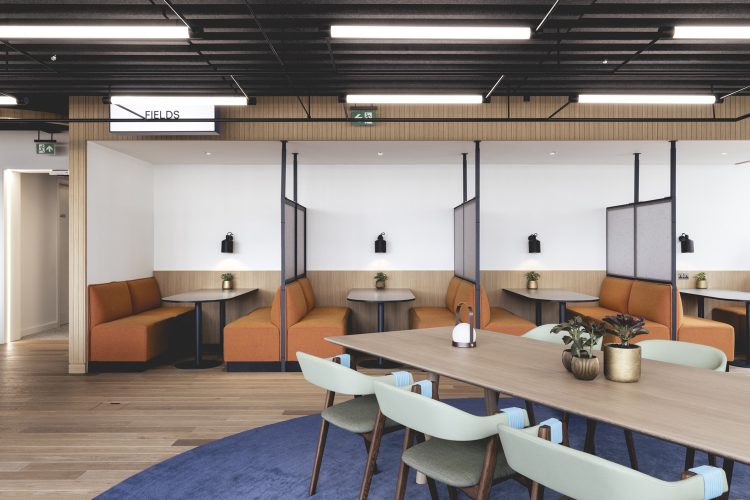 The objective was to create a contemporary workspace that merged flexibility, user engagement, and sustainability. P+W and TFP achieved this by focusing on modular and reconfigurable furniture solutions that could be moved around daily to accommodate the various needs of Cognizant's employees.
Icons of Denmark played a pivotal role in realising P+W's vision. Collaborating closely with the designers and TFP, we supplied the 4T System as booths for Cognizant in two key breakout locations.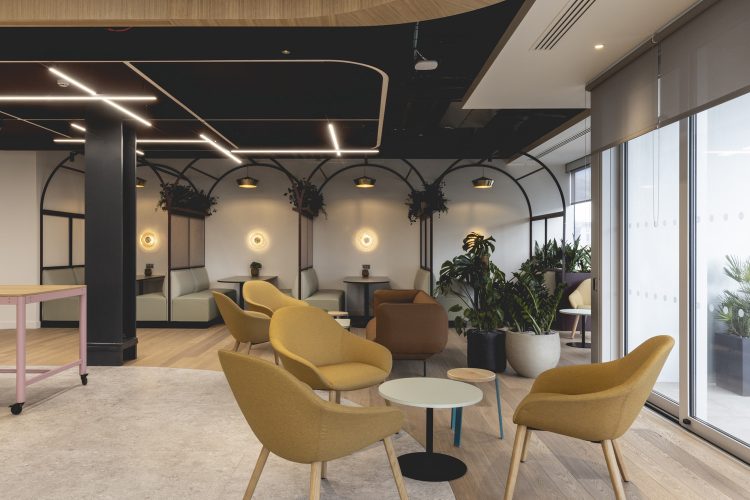 What sets these two configurations apart is the use of bespoke materials for the privacy panels and the specially designed curved steel frames – a unique pilot specification for the 4T System. Working with Perkins + Will, Icons Head of Design Jay Grant designed the special 4T System booths.
Normally a straight 1240 x 2440 standard frame, Icons created a special curved module to attach to the standard frames. Honouring the 4T System's design intention of offering a reconfigurable modular system, the curved arches are designed to fit within the existing framework dimensions and use the standard 4T System material, 98% recycled steel. The design added a distinctive organic look to the 4T in the breakout space.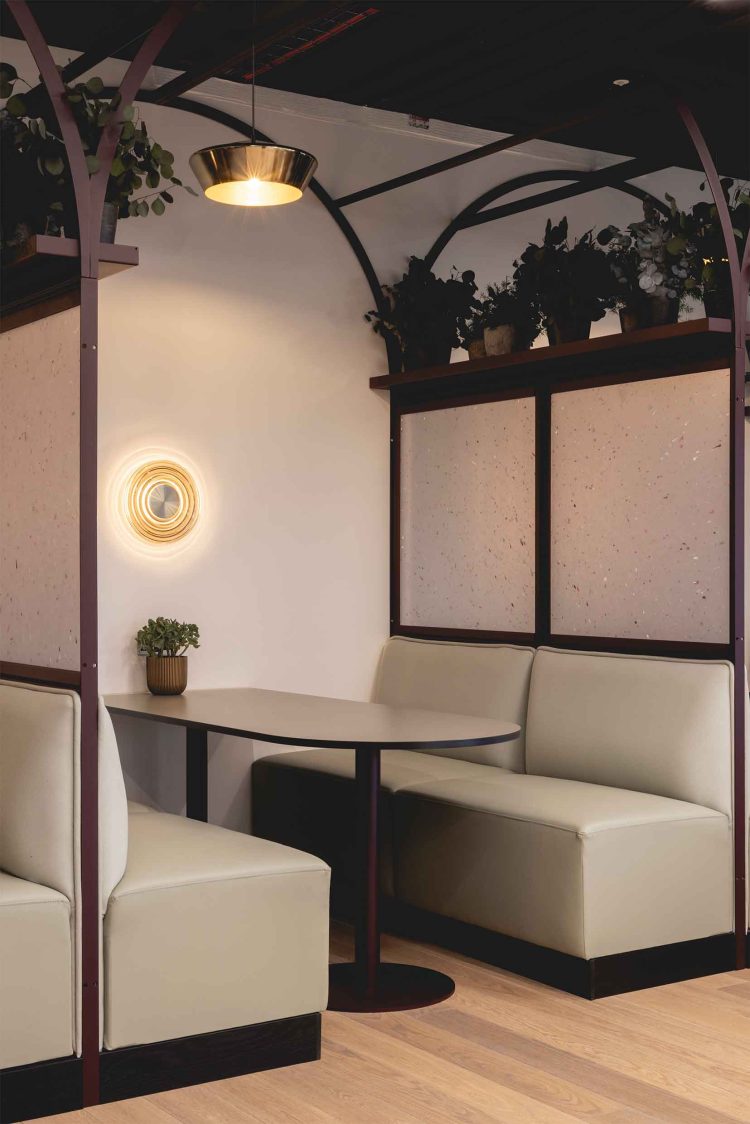 Special privacy panels were specified by P+W from Welsh manufacturer Smile Plastics for integration into the 4T System. Using 100% post-consumer waste often destined for UK landfills, Smile Plastics have a unique range of 100% recycled plastic panels. P+W chose the Spectra finish created from PET packaging paste.
 Smile Plastics' production is a circular process. Any waste plastics generated during manufacture and cutting are returned to the beginning of the process, modelling zero-waste manufacture. And, although the panels are built for longevity, they are 100% recyclable, with no additives, binders or resin—just pure recycled raw material. Any Smile Plastics product can be recycled locally or, thanks to our buy-back scheme, returned to us to be remade all over again.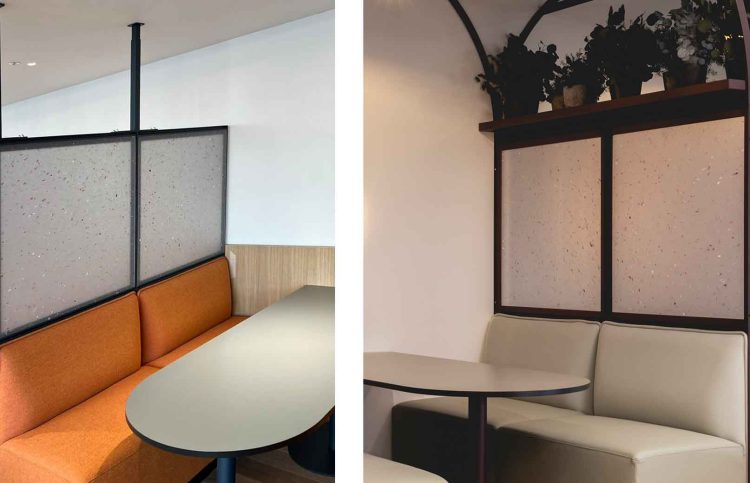 Within the 4T System, Bank sofas were fitted for seating. Continuing P+W and Cognizant's sustainability initiatives, the Bank Sofas had to meet stringent environmental thresholds.
All furniture items sourced for the fit-out contained responsibly sourced wood materials, and low VOC emissions, embodying Cognizant's commitment to environmental responsibility. Furthermore, a staggering 40% of all furniture items in the office are either reused or contain recycled materials, showcasing a dedication to circular design and waste reduction.
Cognizant is one of 2023's most certified sustainable workspaces, achieving and EPC rating of B, BREEAM Outstanding, and WELL Platinum.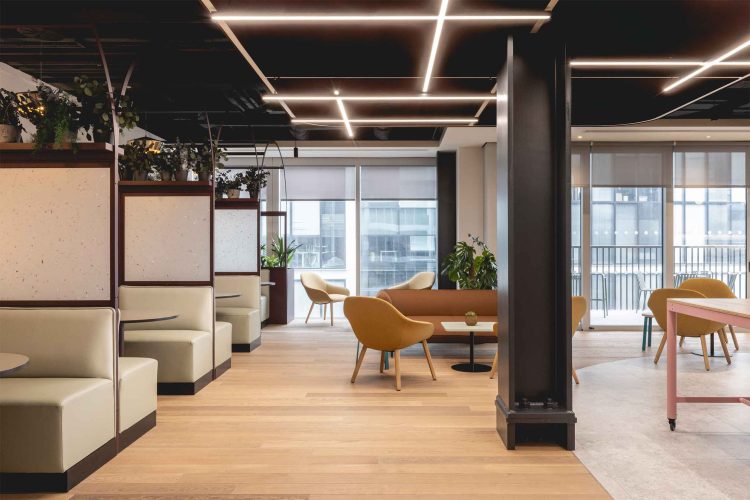 Products used in this project