Aldgate Tower, London
Aldgate Tower in the centre of London's creative Shoreditch required a community-focused design for its ground floor lobby. Concentrating on the space as a destination to support a range of activities, interiors firm Basha Franklin created a welcoming and inclusive atmosphere that referenced the surrounding area.
The lobby functions not just as a welcoming reception but also as a hospitality space. Central to the design are several collaborative workspaces with pods, workstations and lounge seating areas scattered across the floor plan.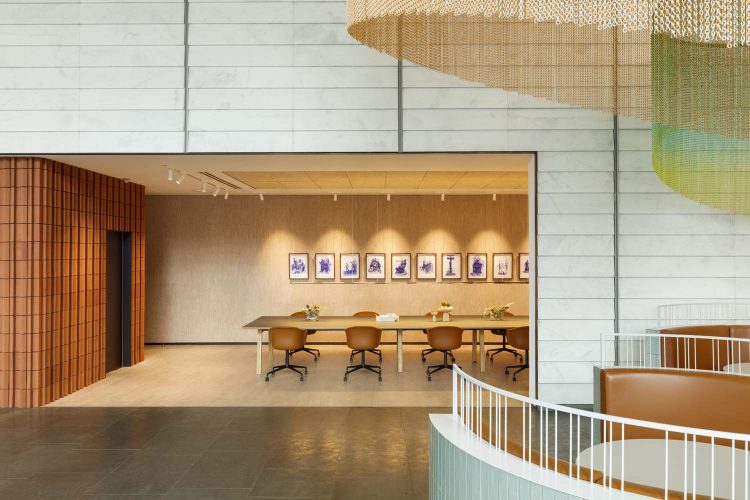 'In response to the brief we provided a space that has an emotional response to place, community, craft & culture. The natural greenery in the space is a juxtaposition to the urban setting – a place for pause, social connection, sense of belonging and inclusivity. Creating a destination spot to support a range of activities, typologies and settings which activates the prominent, open ground floor reception.' – Basha Franklin
Directly off the lobby space sits a six-meter long Facit Unlimited. The workstation fits effortlessly into this thoughtfully designed space facilitating the agile working environment.  The warmly lit informal meeting area can be used for both guests and tenants alike as a touchdown space for spontaneous collaboration.
The tables solid oak finish for the frame and earthy green Fenix tabletop complement the soft lighting of the space, exuding a natural warmth. Power is integrated seamlessly into the solid wood table leg, hidden away behind a magnetic oak cover – creating an easy working environment for the user.
Polly Clark, the lead designer of the project from Basha Franklin comments: "I chose the Facit table because I love the neat seamless cable management which runs down the leg and the option to choose a Fenix tabletop over other laminates is always preferable."
With 16 floors of occupiable space, Aldgate Tower is one of the newest additions to the quickly developing city fringe area of Aldgate. The high spec design of the lobby aims to strengthen the building's identity creating an overall experience of inclusivity and collaboration – appealing to a large range of tenants.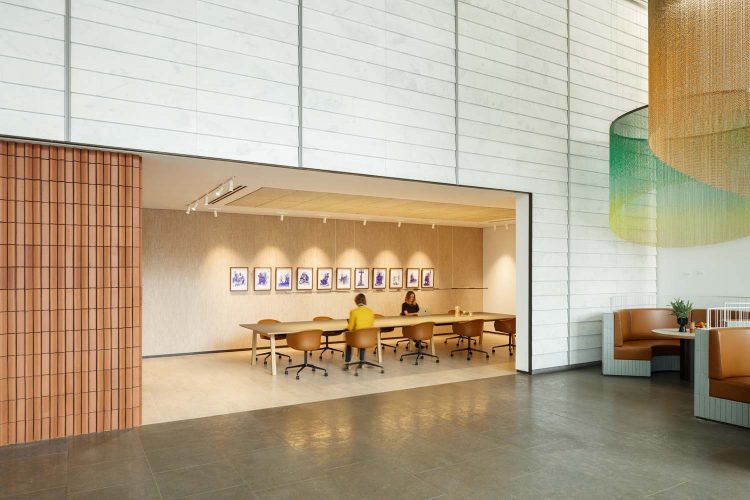 Products used in this project