Interview with Dennis Marquart
For Dennis Marquart, designer of the Gab Lounge and Spire Coffee Table, the past greatly influences his contemporary design practice bringing forward a Modern aesthetic into his range of products. Having originally trained as a blacksmith, a craft with a long history, he continued his studies at the Copenhagen Design University. Dennis Marquart recently joined Jesper Jensen and Sandra Genth (Icons joint directors) to discuss his design practice and the inspiration that drives him to create.
Jesper Jensen: Tell us about the Gab Lounge chair. What was the aim in designing the chair?
Dennis Marquart: I wanted to make a chair that was made of wood with a simple, sleek design. The chair needed to have a small footprint but still suitable for its purpose of being a lounge chair. Of course, I was also inspired by the history of Danish design, looking back to the designers of the Modernist era who created some amazing, inspiring pieces. I wanted to take their heritage with me and create a chair that looked back to them but also looked forward.
JJ: The Gab Lounge is domestic in feel, however it is included in a workplace focused collection. How do you think the Gab Lounge will appeal to workplace projects?
DM: Well, this chair looks to the future, so to speak, by being informed of its design heritage. This is the same for office design now – we are always influenced by the past to create a future design. I think you need to reference history within design to give people comfort – like nostalgia.
You need domestic feel furniture to create zones within the office to make it not feel so office-like. We want to create a good feeling when we go into the office and furniture is a part of this. I think Icons is on the right track with how their furniture balances the domestic feel with a commercial aesthetic, suited specifically for the workplace.
Sandra Genth: We love the look and feel of the chair. It's a great addition to our collection because we have a lot of upholstered pieces, so it is inspiring to also work with wood and combine it with leather and fabrics. We also enjoy being able to see the details in the wood – whether it is the joints or natural imperfections in the wood which make it so beautiful.
JJ: This isn't the first piece of furniture that is included in our collection. The Spire Coffee table was the first product you designed for us – How did you respond to our design brief?
DM: The Spire table collection was given to me as a brief by Icons to make a table that was simple in design. You didn't want it to be busy or complicated so we designed it based on this. We combined the tapered slimline leg with a natural stone top using both myself and Jesper's ideas to come up with the final design.
SG: It was a perfect collaboration. Every time we visit you in your studio we see these new projects you are working on – interesting materials and designs. Can you tell us about any exciting discoveries?
DM:  I haven't made any new discoveries recently but also I work in my own bubble so I don't always remember myself. I don't deliberately keep secrets but I'm in my mind exploring and that is how I work.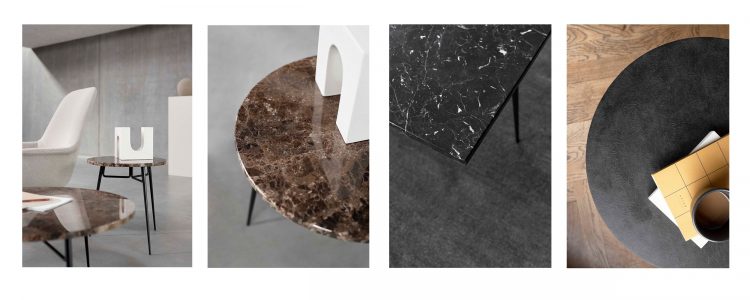 SG: Before your training at the Copenhagen Design University you trained as a blacksmith. This is a trade with a long history, how do you think it informs your contemporary design practice.
DM: Most of my designs have something with steel. I am influenced a lot by my background as a blacksmith but it is also so easy to make products with steel, partly because I know the material so well. Wood is more complicated because if you cut it wrong, you have to replace it whereas steel you just weld a new piece together with the old and then its brand new.
JJ: You focus a lot on natural materials, such as stone, wood and leather within your work – do you start with the material as inspiration or the furniture concept?
DM: It can be both – often it is the material I start with as inspiration and then I see what I can do with it to create something interesting. I consider myself experienced with leather, stone and steel, so I already know what I can do with them – but I still like to experiment to see how far I can take them.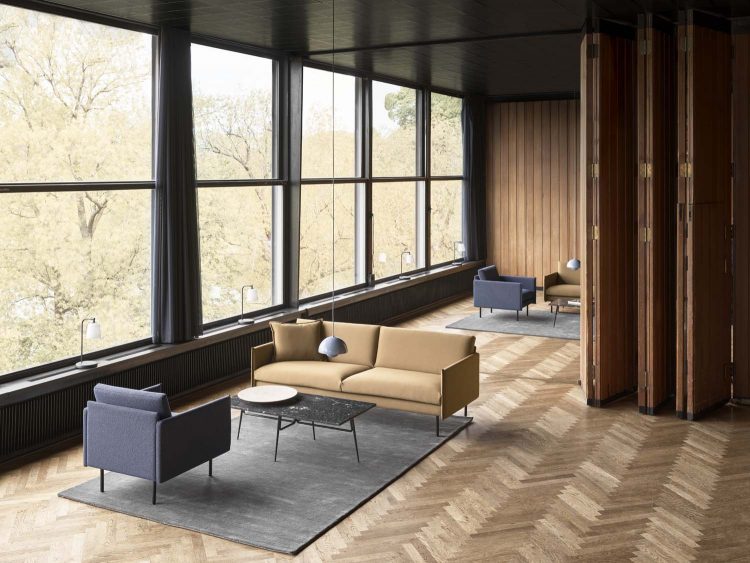 JJ: What does a typical day look like for you? Do you have a hands-on approach within your studio experimenting?
DM: I have hands all over the place! When it comes to designing a product I can start more or less anywhere. Sometimes I find myself in the workshop trying to get something together or I will work on a little detail of something and explore and sketch until I discover an idea.
I will make many sketches to find out the direction I want to go – east or west I never know!
My wife often asks me how I focus on so many things all at the same time. I have many small projects going on, with some that I don't continue or I revisit them a month later. I think this is why you both always enjoy it when you come and visit the studio because I have so many projects – I sometimes don't remember what I'm working on until I see them again. So it's not always one product or detail that I continue with, it's an ongoing process with a lot of my designs.
JJ: Do you ever finish a project?
Sometimes – or when I need to! I recently hosted a talk for a university in Istanbul, Turkey where they asked me the same question! I told them about a chair that took me 5 years to finish from conception to creation of the finished product – Maybe it is still not finished.
SG: How do you work as a designer and where do you find inspiration?
DM: Many designers say they are inspired by nature but I am inspired by the history and the designers before me. For example Hans J. Wegner, his wishbone chair is inspired by a Chinese design of which he adapted the design to create a chair that was suitable for his contemporary Danish audience. Sometimes I find I work like that or I see a little detail I find interesting, or a detail I think could be improved and develop a concept like that.
I believe you should use your limited time here to do something good and improve the lives around you.
SG: The Gab Lounge was a collaboration between you and an apprentice who worked with you, Gabriel, of who the chair is named after. Can you tell us about how that started?
DM: Yes. Gabriel; he had been working as a carpenter in the studio and he wanted to create a wooden chair design – coincidentally so did I. We combined our design ideas and used each other's expertise to come up with the chair. I wanted an upholstered lounge chair as well, so I specified that I wanted this feature within the design. It was a collaboration of skills and ideas, just as the Spire Table was conceived with you at Icons.
JJ: Yes we want to celebrate collaborations within our collection. Everything we design has an element of this and it's great that we are able to foster younger, less established designers' skills to create something so beautiful and that looks so effortless.
DM: Yes, exactly!