Designer Interview: Rikke Hagen
A leading woman in today's world of Danish design is Rikke Hagen. Renowned for her innovative approach to material-led design, Rikke developed Icons of Denmark's Bark Lounge chair – one of the few pieces of commercial furniture to be crafted from the bark of a Cork Oak tree.
Rikke talked Sandra Genth (Director at Icons) through her journey: starting with a road trip through rural Portugal, and ending with a technically advanced CNC machine, capable of working the malleable yet robust material into a comfortable, sustainable lounge chair.
SG: The Bark Lounge is one of the few chair designs that are produced with Cork. What motivated you to experiment with this material?
RH: I fell in love with the material. Cork has a warmness to it, like a fabric. It is not a feeling that you often come across with furniture – people want to get to know the material, touch it, and have an experience with it, not just look at it from a distance. To me, it emulates upholstered furniture.
SG: Tell us about the technical challenges of producing the chair? How did you overcome those challenges?
RH: First of all, it was a journey to find the right cork. I was curious about what I could get out of the material, and I didn't know if it was even possible to make a piece of furniture this size out of it.
I started off by travelling to Portugal, where most of Europe's cork is harvested, rented a car and visited factories to see how they worked with it. That was incredibly inspiring. I found out cork is not just 'cork' – there are many different types, and I had to expand my research to find the right type and quality.
And then, I had a task for myself! I wanted to use new technology. This is where the process of making the chair comes in by using a CNC machine. The CNC machine works on the form of the product very precisely, which makes it an obvious choice for such a delicate material. It's about bringing tradition and innovation together.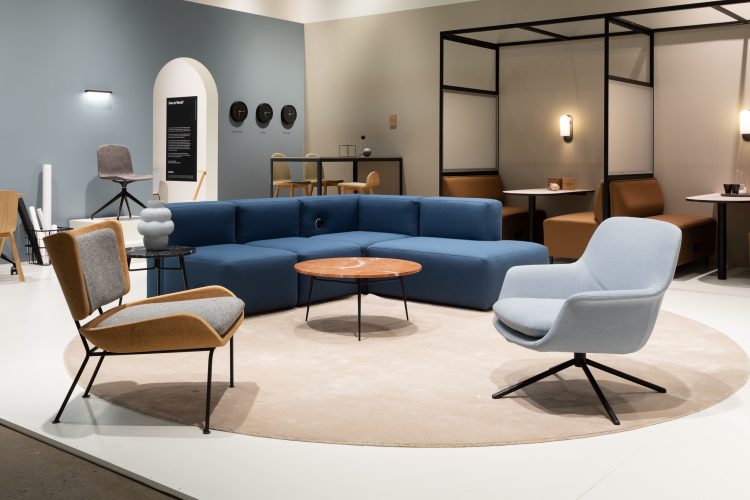 SG: We have spoken before about sustainability and why that is important for contemporary product design. How do you strive to be more sustainable in your design practice?
RH: Sustainability is such a huge area with a lot of constantly evolving ideas. I focus on the assembly of the furniture first so that when it has reached the end of its lifecycle, you can take it apart easily and recycle, reuse or in the last resort, dispose of. I aim to create furniture which will last for generations – designing a timeless piece made from high-quality materials.
The Bark Lounge chair is both of these things. The assembly of the chair is simple with two shells of cork, attached to a steel frame. The cork and steel can both be recycled to create other products or to be used as raw materials again.
SG: Can you tell us more about the CNC machine you mentioned earlier and how this contributes to the design of the chair?
RH: I wanted to continue the tradition of furniture making in Denmark, but by using a new technology, rather than traditional craftsmanship.
For me, it is interesting to have the machine doing the hard work, however the machine still needs human skill to coax it into the right settings and configuration – it brings innovation and new technological advancements into furniture production.
The machine is configured so that it works the material layer by layer, to cut away at the cork. In the end it cuts the shell into a 40mm thickness, and the finished shell is sanded to create the smooth surface which you see on the final product. Even though it looks simple, there is much technical skill involved to get it right.
SG: At Icons we see our relationship with the designers of our furniture as a collaboration. How do you feel the collaboration with Icons has benefitted the design of the Bark Lounge?
RH: I think you are brave! You have taken a risk with a material that is very uncommon in the commercial interiors market and for me, that is very inspiring.
I also think it is necessary to take these risks as a business and have the curiosity to go down this road, experience new materials and promote innovation and sustainability.
SG: I remember seeing the Chair for the very first time and it was so exciting! It felt like we made a discovery as it was so unique in its shape, its material. I was thinking about the chair after we left until we spoke again – I couldn't stop.
SG: Speaking of collaborations, you work in B33, a studio in Copenhagen with several other designers. What is it about working in a studio that you enjoy the most?
RH: I am a very lucky woman. I have seven designers here in the studio with me that know everything about furniture! You cannot buy that knowledge anywhere. We share all the time in the studio, and there is always someone who knows about metal or wood or cork. We all work very professionally and feel like we can share with confidence.
SG: Jesper and I visited the studio once and it was so inspiring to see all the materials, samples, little prototypes, 3D printers, even a woodworking studio. Do you craft your own prototypes?
RH: Yes I do. I've been a craftsperson for many years so it's very natural for me to go into the workshop. I mostly work with the 3D printer and paper now to craft my models.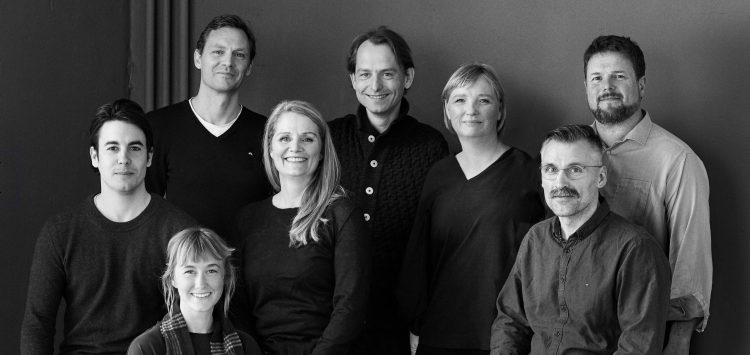 SG: Do you find having modern technology such as the 3D printer helpful to your practice?
RH: Yes, I wouldn't have been able to make the Bark Lounge without it. It makes the process much faster and easier, also more cost-effective to come up with new ideas. When I was first designing, you would have to wait weeks to produce a model after you had found the right person to help you. Nowadays it's so easy to get an idea of the form or the angle of the product quickly.
You still have to see the physical materials and be able to experiment with them. You cannot get these answers from using a 3D printer alone.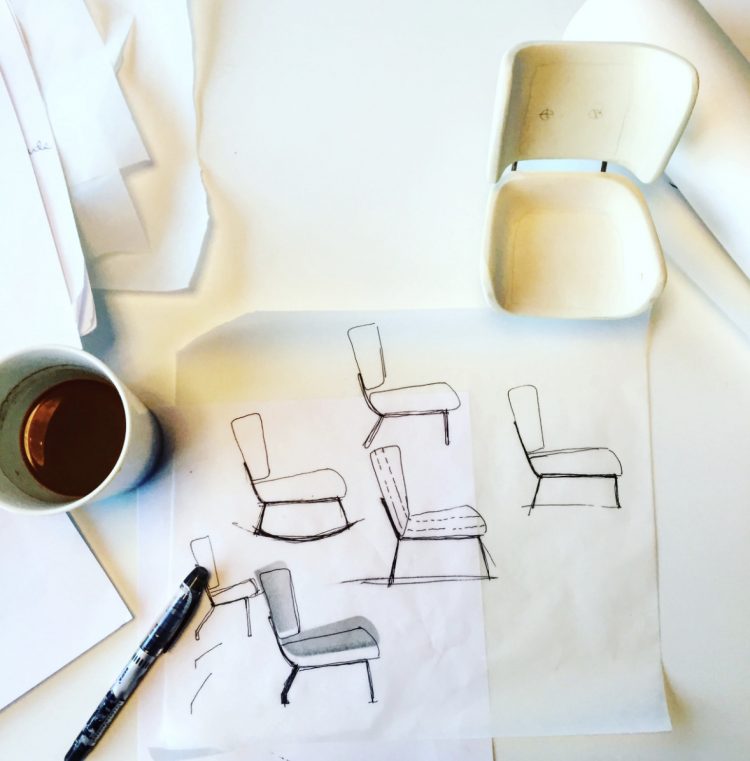 SG: What is the best advice you have received as a designer and what would you pass on to the next generation of designers?
RH: I may sound a little old fashioned, but you always need to keep being curious and intuitive. Experiment in the studio – that is very important advice for the next generation. If you want to find the next 'icon' then you must travel down unknown and sometimes unsafe roads to take a risk, even if it doesn't always end up as a finished design.
I also think that sustainability needs to be at the forefront of our thinking, even more so than how it is now. We never used to talk about it when I was at school, and now it is such a huge issue for the world. I'm aware we cannot always find the solution in every aspect of design, but we must try to find ways of improving for the environment.