Designer Interview: Laurits Gersbøll & Magnus Thy
Designers Laurits Gersbøll & Magnus Thy are a design duo based in Aarhus, Denmark. Meeting at university, the pair focus on producing innovative designs influenced by their Nordic traditions.
Their shared curiosity for sustainable design, craftsmanship and experimenting with new materials laid the foundation for their collaboration.
We caught up with Laurits and Magnus to discuss their design processes and why it is important to keep design fun.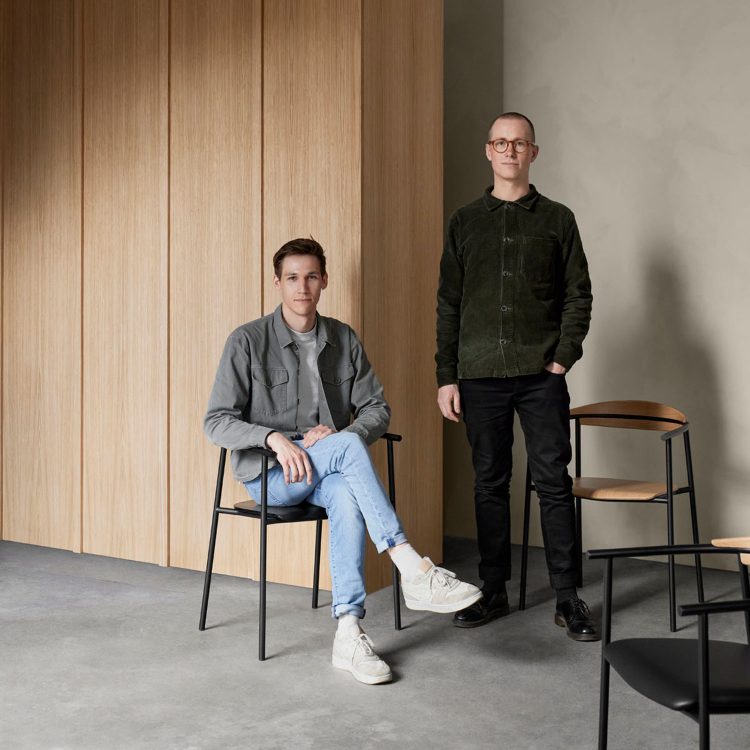 Jesper: As a workplace furniture company we focus on designing functional products that offer solutions to interior challenges. Tell us how you approached the design of Katla in reflection of our principles? 
Laurits: When we started to conceptualise Katla, we wanted to design a chair that fits into many different contexts and is not bound by one environment or situation. We wanted the chair to be used in a casual meeting and dining setting.
Magnus: And this is where the materials came into consideration. The seat can be upholstered to make it more comfortable or suitable for a meeting context. Or for a dining setting, you would leave the seat as wood so that it is easier to maintain and clean.
L: Yes, it's super easy to choose the seat or to choose the finish of the chair. It's as you say, Jesper, architects for the workplace have very specific environments to work furniture into, so having this adaptability to choose different materials and fabrics is very useful.
We also specifically chose materials that are durable and familiar – wood and steel. There is a lot of knowledge about these materials as humans have been using them for 1000's of years. They are easy to manufacture and recycle which was an important factor when choosing them.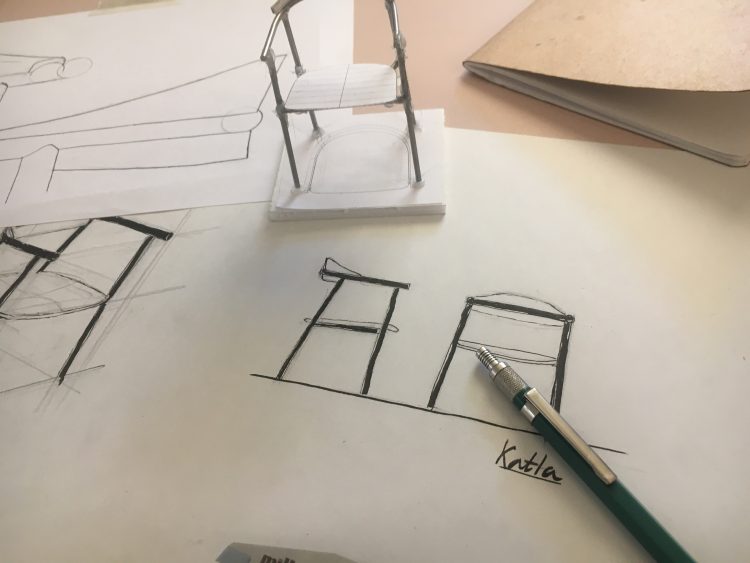 J: We worked with you to perfect the details of the chair, such as the contouring on the arms and the comfort in the backrest. How did you achieve this? 
L: The contour of the arm took a lot of sketches! We made nearly 100 different drawings to find the correct form and contour. It was a matter of measuring to the millimetre to find the right contour to follow the back and be comfortable for the user.
The first prototype was uncomfortable. When you design a chair, even though there are many thousands in the world, it's as if you have to start from scratch to make sure that it is comfortable and is contoured correctly to support people.
M: It was here that we started to work with the 3D programmes to mould, measure and direct the correct shape of the chair. And this was very difficult.
J: Now this is a very interesting subject – You are initially working with cabinet makers in the process to create a form, but then it needs to be manufactured on an industrial scale, so it goes to an engineer who can work with the 3D drawings. What are the challenges of moving between the two professions?
L: With Katla it was the 3D drawings because we had to perfect everything! The contours and details of the backrest had to be decided and designed down to every intricate detail. You must be so precise when it comes to production and if you miss something it influences the entire process and how successfully the product can be manufactured.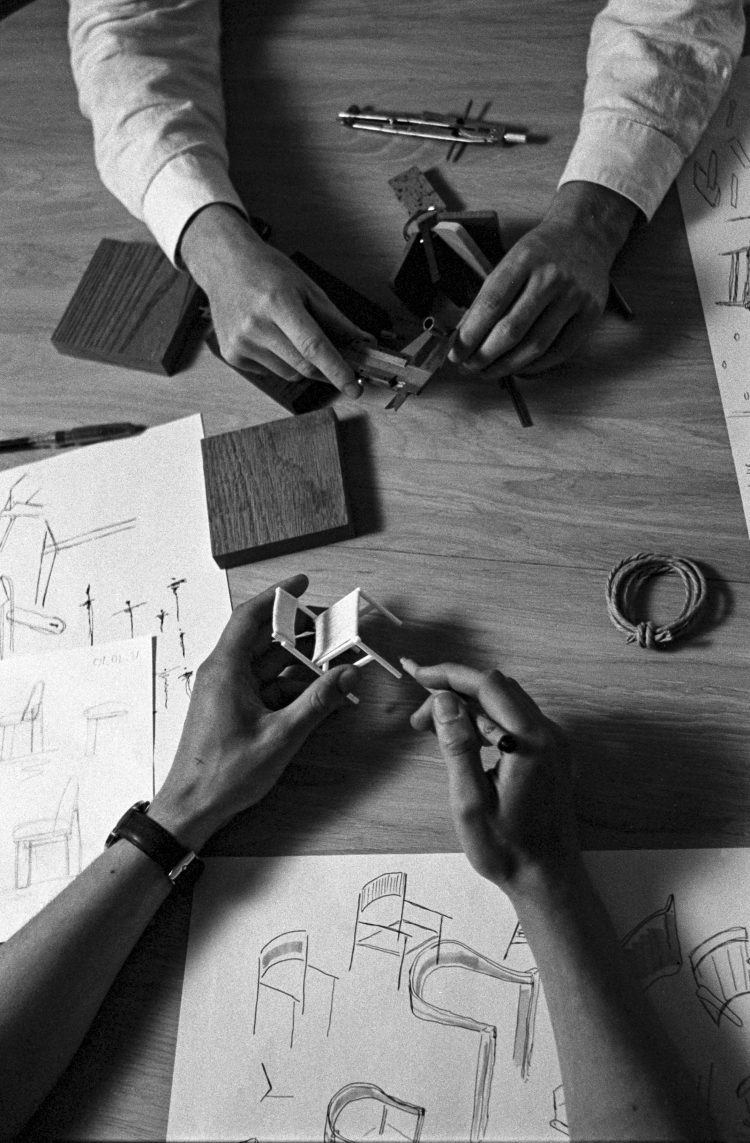 J: You are from a new generation of Danish designers. How does the past influence your practice and what do you do to adapt the well-known principles of Danish aesthetics, such as form follows function, to contemporary furniture? 
L: We grew up with these principles, so we don't feel like we adapt – it is ingrained in our design practice, and we automatically go in these directions. We like the principles of Danish design, so for us the challenge is to follow them but create new and interesting products.
M: Craftsmanship has always been revered in Denmark's furniture traditions, however craftsmanship is very different these days.It's not just someone in a small workshop carving and hammering. It has a different complexity with technology or software that engineers programme to create products.
J: You both say that sustainable furniture design is important to your practices. How do you make sure this is integrated into your designs?
M: First, we start the process brainstorming on how we make a unique design, how do we make it more sustainable, and what are our design challenges in doing so. For example, should it be designed for disassembly, do we have to use specific materials? Throughout the process we are constantly looking at how to optimise the design and stay sustainable, or environmentally conscious.
L: For the Katla, we focused on making a chair with very high quality and few materials, while making sure the product could be disassembled. We chose not to use any plastic in the assembly of the chair, so if a part is damaged, it can be easily repaired. And for the materials we chose FSC wood and traceable, recycled steel – both are strong, durable and can be recycled or repurposed very easily.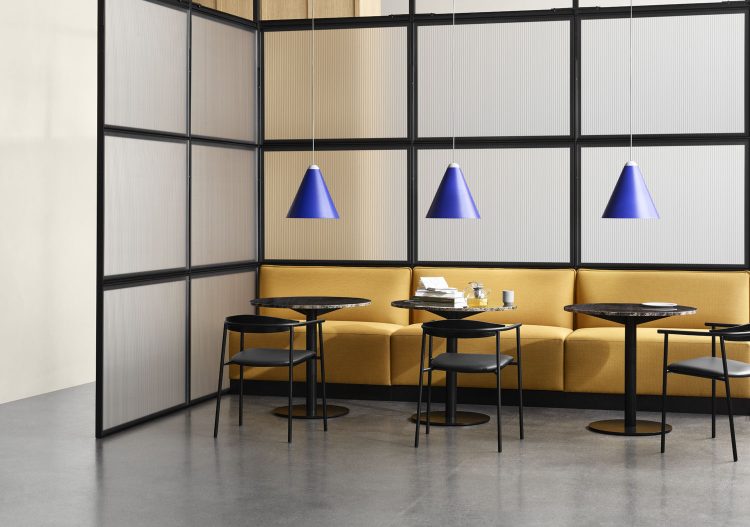 J: What else is important to you as a design duo or, what influences you?
L: We like to have fun. We think it is fun to design together, come up with crazy ideas and discuss them. We are also good friends, as we went to university together so we aren't afraid to speak our minds or ask for each other's opinions. But when we have our idea, we of course take it seriously and start developing our design.
M: We made this stool once out of mycelium or mushroom fibres. The idea was to find materials that could replenish themselves. Although, we did get a lot of funny looks when people learnt of our mushroom growing….
J: Do you think the fibres can be commercialised? Where do you think this idea could go?
M: Because we are furniture designers, we wanted to make it durable for furniture. We haven't quite found the right recipe for it yet to be able to make it strong enough to sit on or create a table out of it. However, we know people are using it for packaging, leather substitutes, all sorts of things so it is about perfecting the material and recipe to create products.
L: For us it's about being curious and finding what there is to work with. We know many of the standard materials like wood and steel, but it is up to us as the new generation to find new materials and experiment. This is important to us.