Bringing furniture production back to Denmark.
In 2018, Icons of Denmark took a major step and part acquired our upholstery production in Denmark. Now into our second year of ownership, Icons of Denmark's upholstery production has expanded to include a carpentry workshop, together employing 12 people.
Denmark has a long tradition of the craft of furniture making but over the last 20 years, more and more businesses are moving their production further afield to larger manufacturing and upholstery workshops. Icons of Denmark is proud to be investing in Denmark's historic industry to boost local production and employment.
We spoke with Henrik Lerche, director of Danish Design Supply, Icons of Denmark's production, about the business of upholstery and his aspirations for the industry.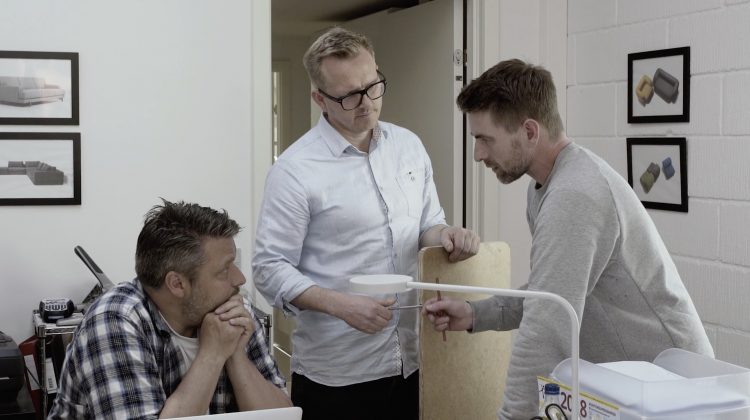 Icons: What first attracted you to upholstery?
HL: I have been working with furniture all of my adult life but my interest in upholstery started when I was appointed as a Buyer for an upholstery distribution business where I worked.  I then progressed to be a project manager and developer for a Denmark based Swedish firm who had production in Poland.
While I was employed there, I convinced the owner to invest in an existing company in Denmark where I eventually employed 130 people.
Icons: And now you run your own upholstery and carpentry production in the town of Horsens in Denmark. How did this start?
HL: Peter Barreth who is a third-generation sofa maker and I created a small company called Versus in 2010. We made high end sofas in our small 150sqm workshop which eventually led to producing for a few different brands.
In 2011 we met Jesper Jensen and a few years later in 2016, we had launched a prototype of our first sofa together – the Private Sofa.
I had always dreamed of building a large production company in Denmark as I saw the rewards from employing local people – sharing skills, boosting the local economy and community and of course bringing back the craft of furniture making to Denmark.
We started with just me upholstering the sofas and Peter designing. Only 3 years later, we will be employing our 10th craftsman after the summer. As long as the world starts moving again, we will be employing more people over the next 6 months.
Icons: A lot of businesses are moving their production and outsourcing the work. Besides the environmental impact of moving furniture several times before it reaches the customer, what do you see are the benefits of keeping workshops close to the source of furniture production?
HL: One large benefit for us is the flexibility. We are able to make improvements on the spot and be swift in carrying out adjustments and improvements on the sofas.
We are also able to restrict the materials and to only source from the best suppliers which we have approved with Icons of Denmark. We know the supply chain like the back of our hand so we can be completely transparent.
The wood we use in the carpentry workshop is all FSC certified so the environmental impact is minimal. We pruchase raw materials locally so we can determine the quality before it is purchased.
We also have established relationships with fabric and leather suppliers such as Kvadrat and Sorensen Leather so we can obtain good pricing and fast delivery – meaning we can provide optimum service for Icons of Denmark clients.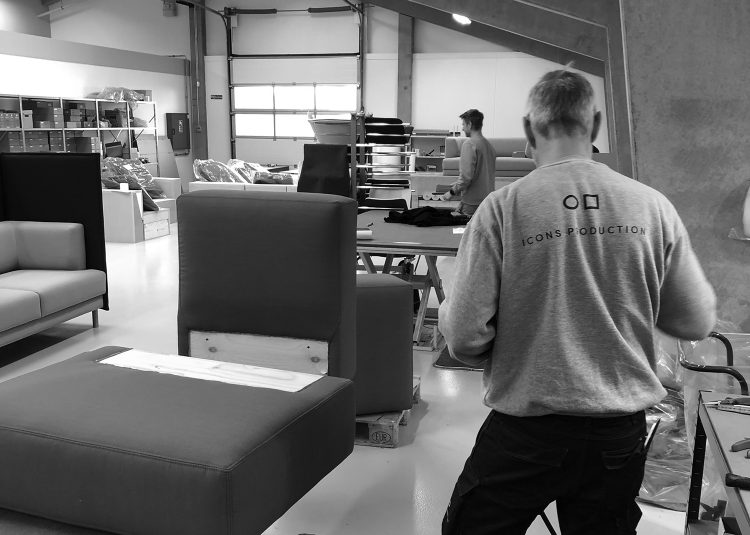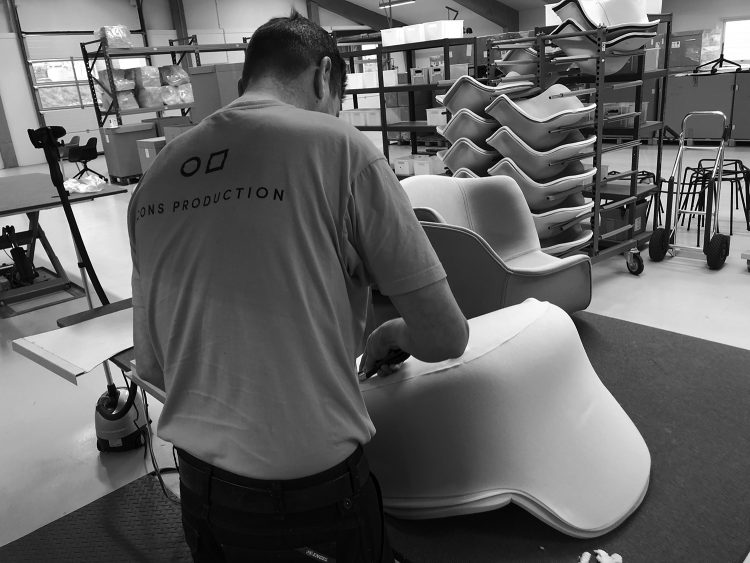 Icons: You mentioned flexibility and responding to issues…Tell us more about that.
HL: When you produce in a different location to the designer it is difficult to test and improve aspects of the design quickly – whether that's comfort, foam density or even templates to the fabric. With our production at the source we can be proactive so issues with the design are foreseen before the first customer receives their product. We can quickly make adjustments to the construction, stitching details, templates, and the foam layers to perfect the sofa as we are so hands-on.
Icons: What are some of the challenges you face when upholstering new products?
HL: Like with the production of anything, you can see the faults and problems only after a few attempts of producing the product. You will almost always find small inconsistencies that are wrong so it's about perfecting the routine and correcting the mistakes before you approve the design. This has been key to our success. It took us time to establish a good routine for how we operate but this is now why we are able to expand the business and take on more designs to produce.