Highlights from the Stockholm Furniture Fair
Working our way through -15 degree black ice certainly made us feel like perilous adventurers but it wasn't all that bad. Once again the Stockholm Furniture Fair delivered on their promise of showcasing the largest exhibition of Scandinavian design. Sustainability, a new earthy colour palette, dreams becoming reality and the revival of the 1970's were some key trends we noticed at the fair.

Colour fields
Much of 2018's colour palette still remains on the brush. Rustic reds, earthy pinks and browns were used (with an honourable mention to Panton's colour of 2019 – living coral). Where previously white may have been employed, here we saw beige with calming taupe, cream and camel shades accented with more vibrant colours.
Sustainability
We've all now seen the videos of boats fishing plastic out of the ocean. Such scenes are becoming terrifyingly commonplace – which is just one of the reasons sustainability has shifted from a trend to an essential part of the furniture design and production process. 
Where in previous fairs, there have been moves towards recyclability of content, now the operative word is circular (tying together the ends of recyclability and recycled content) and even biodegradable furniture (see below for Baux!).
Malmo Upcycling Service provided a great demonstration of this. The design collective presented "You Can't Sit With Us! Unless . . .", a seating range made from repurposed vinyl, wood, foam, leather and other waste materials from manufacturers in Malmo.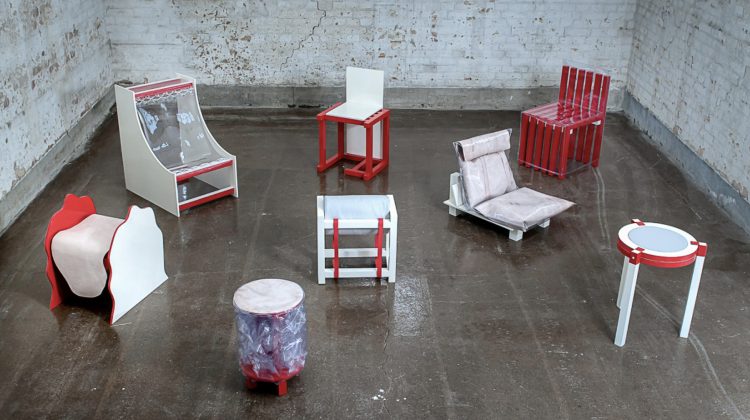 Surreal Worlds
From furniture made of people (thanks to Linnaeus University) to strange new spaces, surrealism and art – all mixed wonderfully into Stockholm Furniture Fair. Bolon's sumptuous Magritte-style stage design was in a world of its own (a theme followed into their lookbook below) without becoming novelty – you can really see how the flooring would work in a less 'odd' setting.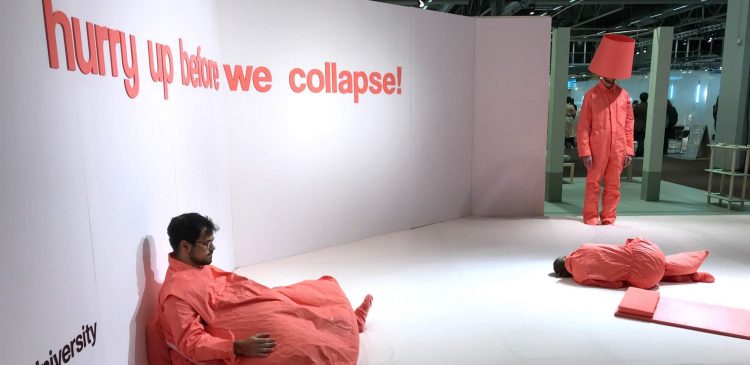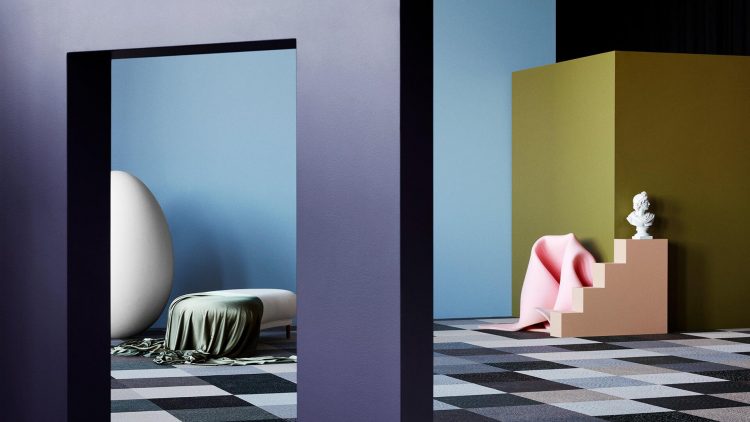 Silence is golden
With workspaces shrinking and companies making a hard push towards high-density environments, acoustic design has never been more important – and was featured everywhere this year.
Kurage, a Danish maker of acoustic materials, suspended a swing from the ceiling of the exhibition space and surrounded it with 2 metre high panels of sound-deadening fabric. The effect was astounding with the noise of the show disappearing into the background.
Baux, A Swedish manufacturer of acoustic solutions, showed an incredible new product for their collection: 100% bio-based, recyclable acoustic panels made from fruit peel, Swedish Fir, potato starch, Non-GMO wheat and wax. With an acoustics market dominated by plastic and fossil fuel-based products, Baux offered a breath of fresh air – literally.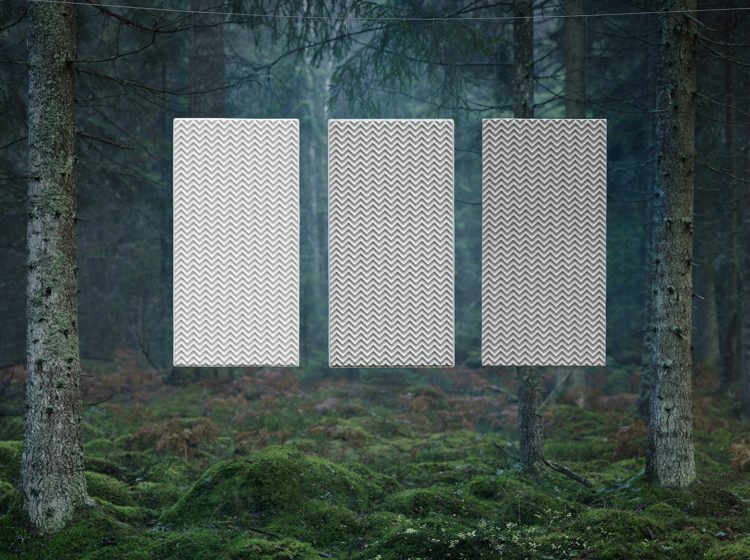 The 1970s is Stayin' Alive
Smooth contours, earthy colours and organic lines demonstrated this year's revival of 1970's design. Plush velvet dressed round, plump armchairs. Earthy pinks, tans and rusty reds gave a warm sense of nostalgia. And finally, frosted glass lanterns, marbles, exposed metals and jazzy shag pile rugs complemented the stands earthy colour tones throughout the fair.  
A new dawn for pine?
Where pine is generally used for the frames of the furniture and is hidden underneath the upholstery, this year at Stockholm pine was brought out as a genuine choice for cabinetry and furniture pieces. Pine brings a cool Nordic look to the interior and is a good, sustainable choice thanks to it's fast-growing nature. Unlike Oak and Ash which take 150 years to mature, pine only needs 25 years to grow before it can be harvested. The drinks bar at the fair designed by Norwegian duo Anderssen & Voll gave us a good reason why we should be taking pine more seriously as a material for furniture making.