Designer Interview: Boris Berlin
Boris Berlin is an award-winning designer based in Copenhagen, Denmark. His first collaboration with Icons of Denmark resulted in the launch of our Ekko sofa – a refined, organically shaped product that fits neatly into architectural spaces with its square profile. We caught up with Boris to find out about his process, how he responded to our brief and what inspires him to design.
Jesper Jensen: How did you approach our design brief in creating an organic sofa?
Boris Berlin: From your brief, it became obvious to me that it had been formulated based on an existing situation within the Icons collection. There was an underline in the brief about exclusivity and an expression of quality, which I liked, as well as the word 'organic'. For me, I had to find out what you meant by this and turn the brief from words into physical ideas.
Organic means different things depending on the context, so my first point was to interpret the word organic with an Icons mind. Often companies want organic shapes that are free flowing, circular, and a somewhat eccentric style. A circle is often described as an organic shape, but it is defined by geometry, not nature, as is a square so for me it is about using geometry to support natural looking shapes.
When I started to develop my ideas for the Ekko, I wanted the product to be organic in line and shape, but within the interior of the product to still allow it to fit within square or confined architectural spaces. The result was a rectangular, tight shape on the outside and a plush, organically shaped interior that supported the user.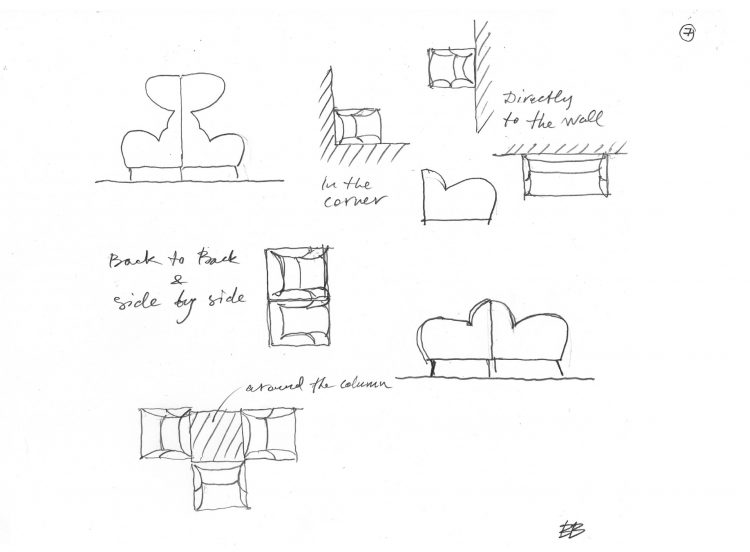 JJ: The sofa is a product that focuses on clean lines, influenced by organic shapes and subtle curves. What were some of the challenges when designing the sofa?
BB: It is interesting to think about clean lines and what does it mean. For me, it means something that is clearly defined, not shaking, or going off course – a defined geometry as well like a circle or square. In my opinion, clean lines do not break from any point of view, no matter how you turn the object at different angles.
When you think about it, your body can draw a clean line through the air, moving organically and not geometrically as designed by Pythagoras. I believe that the sofa connects with our bodies through its interior shape and the curved lumbar support on the backrest.
The main challenge was getting to know who Icons was, as this was our first collaboration together. I see the designer as being part of the family, learning but not dictating the result. I believe a product should be built on the foundations of a company's brand otherwise it could be perceived as dishonest. You must be proud of your own signature and sell something which you like yourself.
JJ: The shape of the sofa is very sleek and simple in its aesthetic, however, we worked on perfecting the shape and the geometry of the curves quite extensively. Tell us about this process and the collaboration between Icons, production, and yourself.
BB: Yes, this is true, it was a collaboration triangle. I was pleased that production was so heavily involved as their skillset is unique and some of the most advanced I have come across in upholstery production. It was a pleasure to work with them as I felt they understood my intention and ideas for the product.
As the sofa demanded exclusivity, it wasn't a matter of adding decoration or gold plating to make it look exclusive. It was about precision, making the shape and the way the upholstery worked as precise as possible. It is not just a matter of covering cushions, it is a meeting between shapes, and this is where the master craftsmanship of the upholsterers comes to life.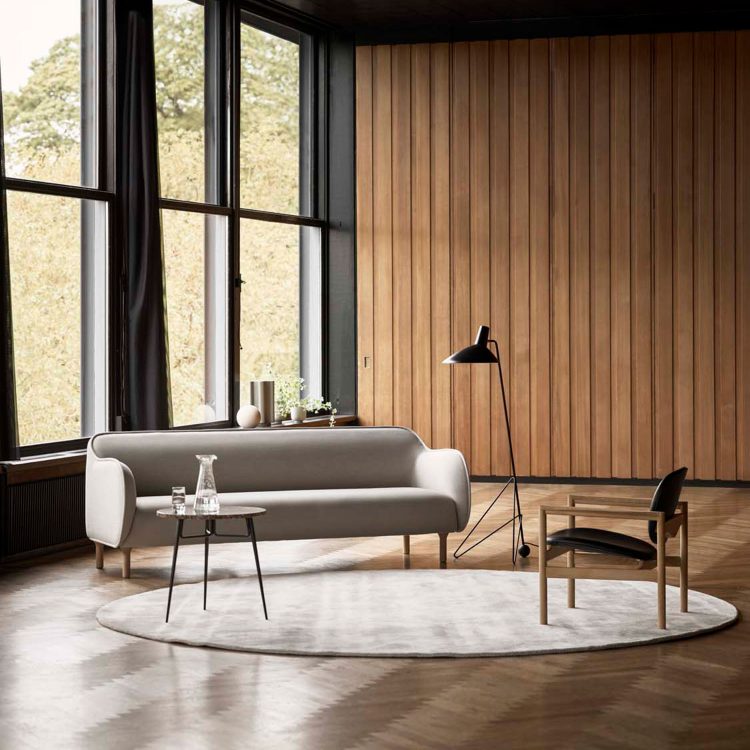 JJ: Now that you mention the cushions, many sofas focus on using cushions to provide comfort in the seat and back rest. The Ekko is based on applying the foam to the structure instead. How is the construction and comfort of the Ekko achieved?
BB: It is not that I have anything ideologically against cushions! It is because the sofa is designed specifically for commercial and public spaces that I designed it this way. I don't believe it should be a cushion that provides comfort because this could be different for many people, or the cushions could be 'repurposed' by the users. We perfected the comfort of the sofa based on the foam density to create the same relaxation while still being fit for purpose in a workspace.
It is about finding out what should be used within a public interior, so we made sure that the Ekko was tight in its design, with optimum comfort built into the structure.
JJ: How do you feel the Ekko sofa contributes to the workplace and what differentiates it from other sofas on the market?
BB: My aim was to create a comfortable low back sofa where people feel they could sit instead of on a task chair. Often a low back sofa isn't comfortable so that was my focus when experimenting with the foam and design of the product.
The key to the design was that the shape allowed for the creation of sofa landscapes, having them side by side or back-to-back. It plays with the architecture as well which is usually geometric and angular and with the sofa landscape, you can create passages and irregularity within the space.
JJ: You and your studio are based in Copenhagen, but you are originally from Russia. How do you think this informs your practice as a designer in Denmark?
BB: It's a good use of the English word 'informs'! I came to Denmark when I was 30 years old, so I had already been practicing design for some time. I could see Scandinavian design from the outside, and I believe I could see it in a different way than people who were already born into the Danish processes. I think when I arrived in Denmark, the students and designers were, to an extent, paralysed by the original masters of Danish design such as Hans Wegner, Børge Mogensen, Arne Jacobsen, and others. The pressure of responsibility to the previous generation was strong and for me that was visible. But as we moved on, another generation came through that were less connected to the masters and were more international in outlook.
Design is a globalised industry – many different designers from all over the world are now designing for Danish design brands. Good design is always international in my opinion.
With my Russian heritage we were taught, based on Marxist theory, that if you produce in quantity, you will find quality – but for me, it's the other way around! How can it be that if you design many mediocre things that eventually you will find something good? You should always concentrate on the quality of the design first and foremost. That is how I work.
JJ: What is your studio like? Do you work alone or with other colleagues?
BB: Well, I have assistants and the CFO of my studio, who is of course always interested in my experiments!
The photographer Henri Cartier Bresson would consider his work done after he took the photo, he never developed his own work – but that is not how I work. I am constantly developing and working with my assistants to perfect my designs. I use the computer to experiment with shapes, as we know that designing something by hand always takes longer. The computer is my instrument for designing.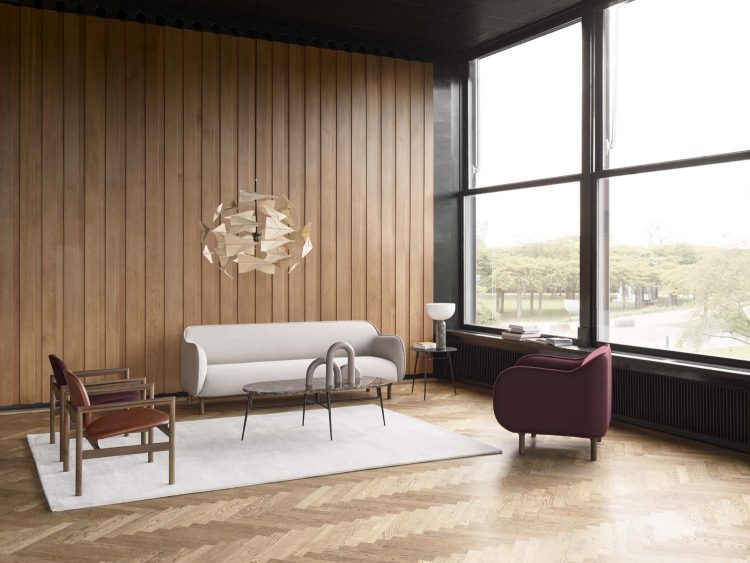 JJ: You have told me that you travel a lot to visit suppliers and when I last saw you, you had a whole bag of components and interesting objects with you. Is this something that inspires you?
BB: Very much – you hit the nail on the head. I absolutely love factories and I always go as soon as they open because then you get to see the workers!
This is a very important part of making and product design. I'm an industrialist at heart and I love seeing production in process, and the best place to see this is where the workers put the waste!  Waste shows the border where impossible becomes possible – waste comes when you step across that line and I find that very interesting. It is this strange borderline where rejections can be as beautiful as the finished product with their irregularities and anomalies.
JJ: What else inspires you as a designer?
BB: I like many things – the list of things I like is very long. Conversations and people inspire me as well – I love hearing opinions and other points of view as this is inspiring to me. The dissemination of ideas. And then there is art exhibitions, or beautiful landscapes or even a piece of stone! My studio is a mess and full of things I have discovered, such as this piece of packaging – look at the curves, it's a beautiful curvaceous object and a good piece of technology that's made it.