5 Design Highlights from Orgatec 2018
What kind of environment will work of the future need? How can freedom and structure be given equal space? These are the prominent questions being asked at Cologne's Orgatec 2018, and we found a wide and varied list of answers. Back after two years, the international trade fair has given us a lot to think about and while it's fresh in our minds; here are our five main highlights.
1. Textures & patterns – Finding patterns in nature
A typical characteristic of natural surfaces is that, while they may superficially appear random, they actually possess a repetitive underlying structure. This is visible in the way plants and flowers bloom, or the way rocks weather and erode. This phenomenon was emulated in many of the texture and patterns we saw – creating beautifully varied items that capture the imagination whilst also working towards biophilia and wellbeing.
2. Colour – Bringing the outside to the interior
This year, the intense whites, blacks and silvers were replaced with wood; muted brown; sea blue, and the green and grey of watercolour landscapes. Where bright and vibrant yellows and reds were employed, we found them often toned down with dampened with a quieter palette. This emphasis reasserts how natural colours can be used to influence a harmonious feeling of calmness and comfort. Sometimes, plants were literally incorporated into the products – creating sheltered spaces with plant walls absorbing distracting noises while the plants increase oxygen and airflow.
3. Furniture – Relaxing into work
The belief that relaxation and productive work cannot coexist is now firmly a thing of the past. 'Soft' furniture items that were once solely resigned to bars, restaurants, and occasionally reception areas were shown to be the heart of the workplace (and were often the most vibrant and well-visited zones of the stands). This led to some really interesting contours with sweeping curves and pleasing geometries not commonly found around workstations. Many environments were softened further with rugs, lighting and accessories – perhaps showing that many companies are gravitating away from the colder commercial office environments.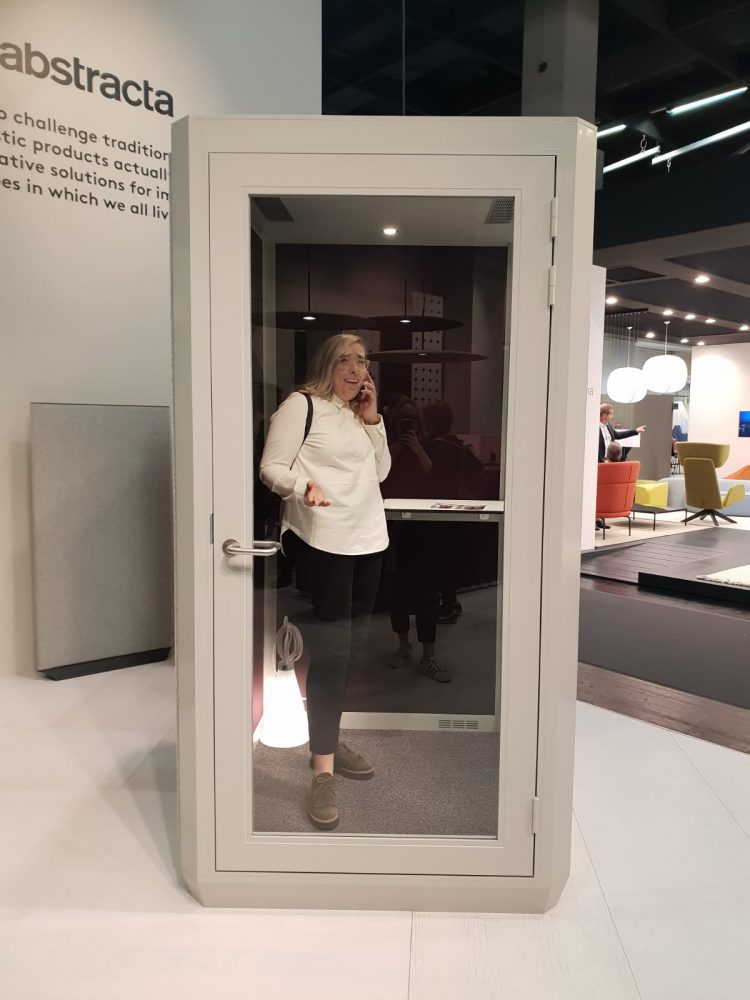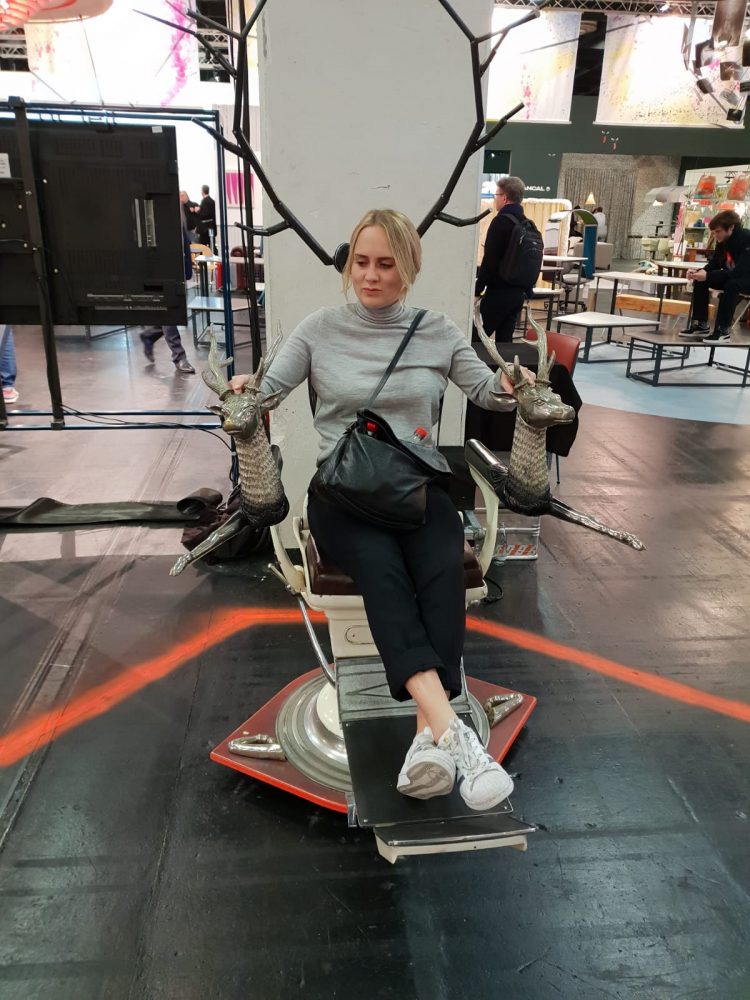 4. Integrated solutions – User experience
The dreaded buzzword of 'Ergonomics' has come a long way in recent years – in both the science and the adoption of the solutions within the workplace. Around Orgatec, we saw several innovative cable management systems, storage and power integration into soft seating – turning furniture into productive architectural elements.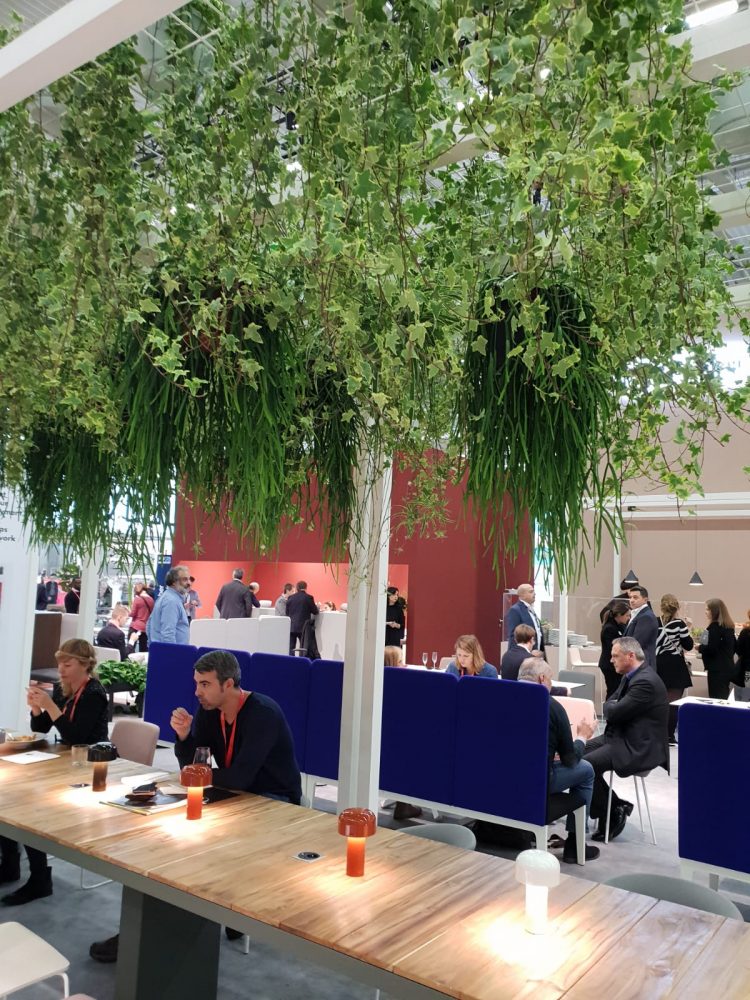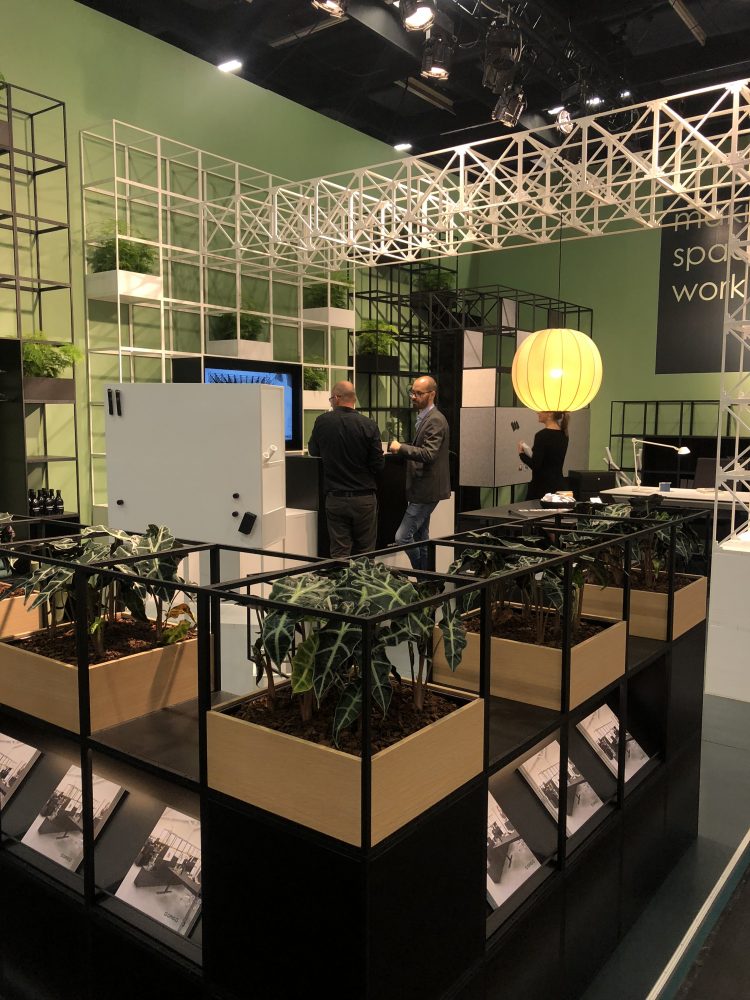 5. Acoustics – Going solo
Noise is still one of the biggest dilemmas facing the modern office – how do we find our quiet within the hustle and bustle of the modern office? (For more on the subject, check out our articles on Noise here). Many of Orgatec's manufacturers explored the science of acoustics to varying degrees. There was a wide variety of sound absorption and sound management products, techniques and solutions. These included the now ubiquitous sound insulating/isolating booths and pods complete with power, data; lighting and air ventilation systems. Another involved mobile sculptural wall screening and panelling. These products provide both a visual and sound barrier and often involved beautiful colours, patterns and tactile fabrics with high NRC (Noise Reduction Coefficient) ratings.